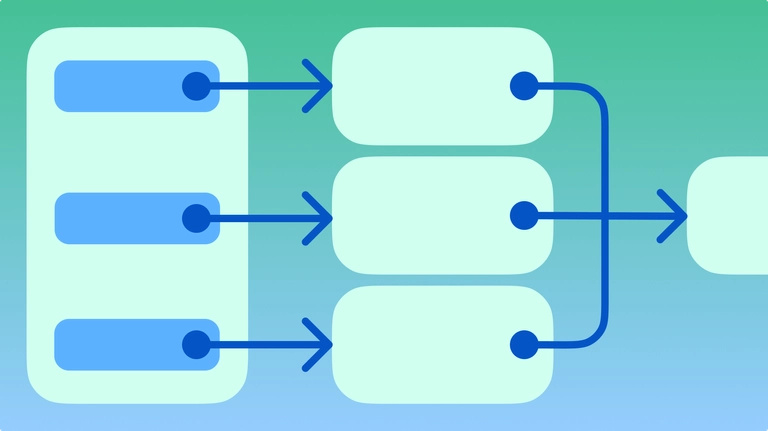 Published January 30, 2023
A step-by-step guide to write a perfect chatbot script
Conversations make the biggest impact on your bot's engagement success. Write an excellent chatbot script with this step-by-step guide.
One of the most prominent signs of a successful chatbot is that your customers barely notice if they are chatting with a human or a bot.
A global study revealed that 56% of customers prefer to speak to a human instead of using a chatbot. But if you can make your chatbot script more conversational, they could drive a lot more conversions instead of stalling customers and burdening your team members.
In this article, you'll learn a step-by-step process to write a chatbot script that keeps your conversations (and conversions) flowing effortlessly. We'll also be sharing some high-conversion chatbot script templates to help you start writing.
How do you write a chatbot script?
Did you know 72% of customers expect brands to show that they understand their needs through personalized experiences?
'Personalized experience' is the keyword here. Again, you don't need to be a coding genius to do that; you need to care enough about what your customers need.
A well-written conversation script anticipates where customers are on their brand journey to give them appropriate answers to take the next step.
The top use cases for conversational marketing in 2022

Remember, the more human your conversational flow is, the more human your workplace becomes, as you can offload all the repetitive customer engagements to your chatbots.
So here's a step-by-step guide to guarantee your chatbot conversational flows provide a great user experience:
Be specific with your chatbot goal
If you're going for a drive, you have to set your destination before mapping the best routes to get there. Similarly, a good chatbot needs a clear call-to-action (CTA). You need to map out your customer's journey to map out your conversational flows.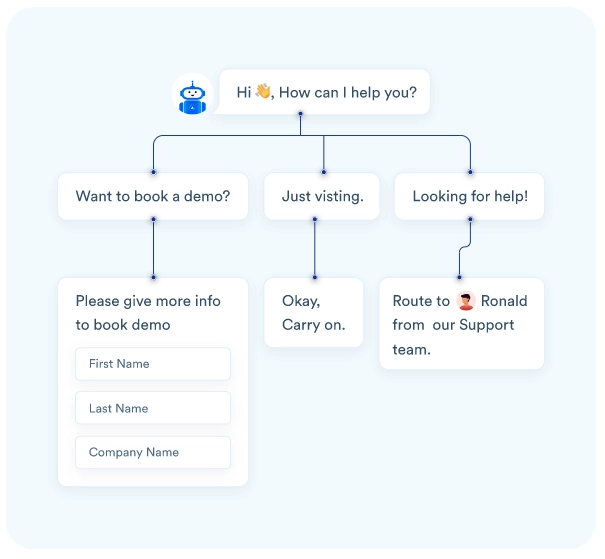 The more specific your CTA is, the more credible and actionable it appears to your customers.
For example, educating your customers about your product's impact is a broader goal. However, convincing them to download your annual report of successful case studies is a more specific goal.
Use the right voice for the right scenario
Artificial intelligence (AI) empowers chatbots to identify user sentiment and respond to not just the content of the query but the tone of your customer.
Don't be afraid of small talk or using fillers like 'umm' and 'hmm' or emojis wherever appropriate to make the conversation more relatable.
Professional or casual, firm or humorous, your bot scripts should be appropriate for your brand image and the particular scenario.
For example, avoid robotic responses to unhappy customers like:
'Kindly share your order details, and we'll take a look.'
Match their emotions while being firm and professional by responding with the following:
'Oh, we're sorry to hear that. Could you please share your order details so we can help you get the best experience from your (product name)? '
Collaborate with your team to build your conversation flows
You can only design a user-centric live chat experience if you know how to step into your customers' shoes. Invite the marketing, sales, and customer support team members who deal with them daily to help you.
They know your customer's struggles at each stage of your sales funnel.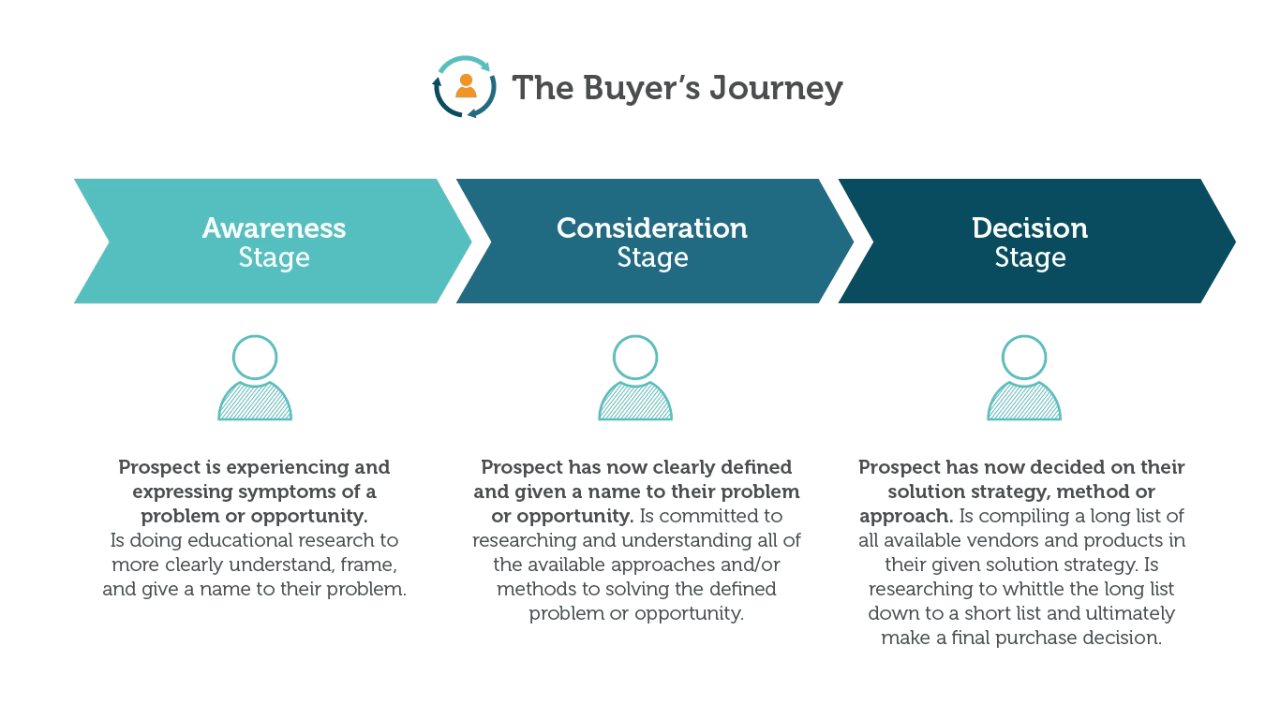 They can even tell you the most common phrases customers use to help you optimize your trigger keywords.
Once you frame their queries in the most relatable way possible, try to create a few different versions of your responses to make your bot sound more like a human agent.
Personalize your conversations
Personalization is the secret to build a chatbot that sounds like a real person.
It could start with something subtle, like using your customer's first name in a welcome message. Or, you can use a series of Q&As to lead them to relevant product recommendations.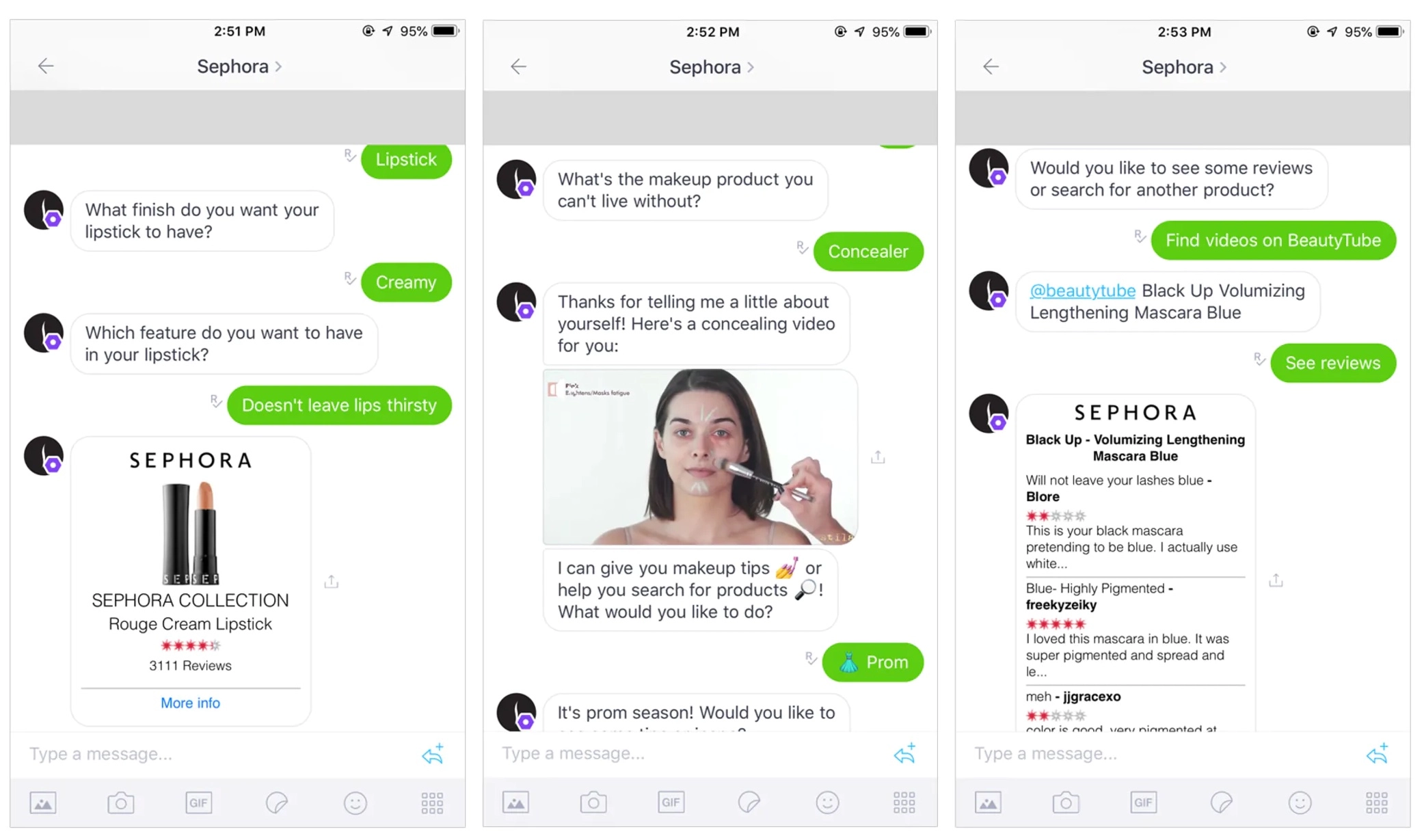 Tap into your customer's data and browsing history to anticipate their needs and design conversations accordingly.
Use responses that help add more depth to your customer profiles
If you want to train your chatbot to get more intelligent faster, here's a secret — use your questions and responses to sort out your customer's preferences.
For instance, you can ask your customer what their favorite color is in an introductory survey form and use those details to give them product recommendations with their favorite color later.
Try to get a deeper understanding of their likes and dislikes. By doing this, you're setting the stage for designing more engaging shopping journeys for them in the future.
Know when to offer human intervention
A chatbot can take care of 80% of routine user questions, but it can't guarantee 100% accuracy. Misunderstandings and interruptions will pop up every now and then, and your chatbot will only make it more frustrating if it's unable to process your customer's request.
Your bot can escalate the conversation to a human agent if it detects that your customer needs a more relevant answer.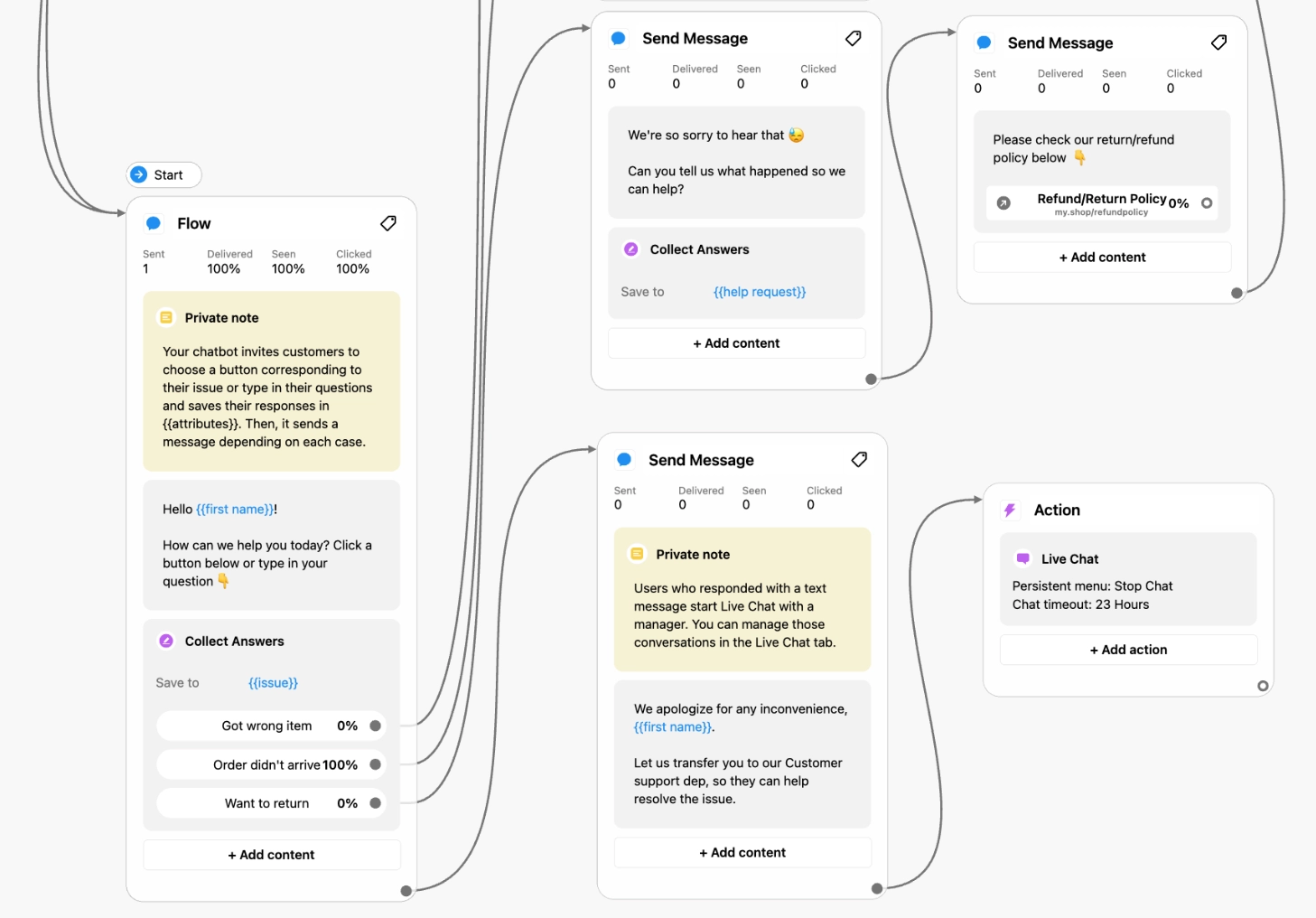 Customers may also seek detailed discussions about how you can customize your product or negotiate deals. Naturally, your team will also be able to score higher conversions once your chatbot turns visitors into qualified leads.
Chatbot scripts best practices and tips
We've covered the essentials of how to write a good chatbot script. Here are a few more ways you can optimize it further:
Use active voice for a more friendly, intimate connection with your target audience. Passive voice is better suited for a more professional, high-level educational approach.

Be concise. It's a book's job to make readers contemplate, but a chatbot's job is to make people act. Try to keep each message limited to three lines of text (60 to 90 characters).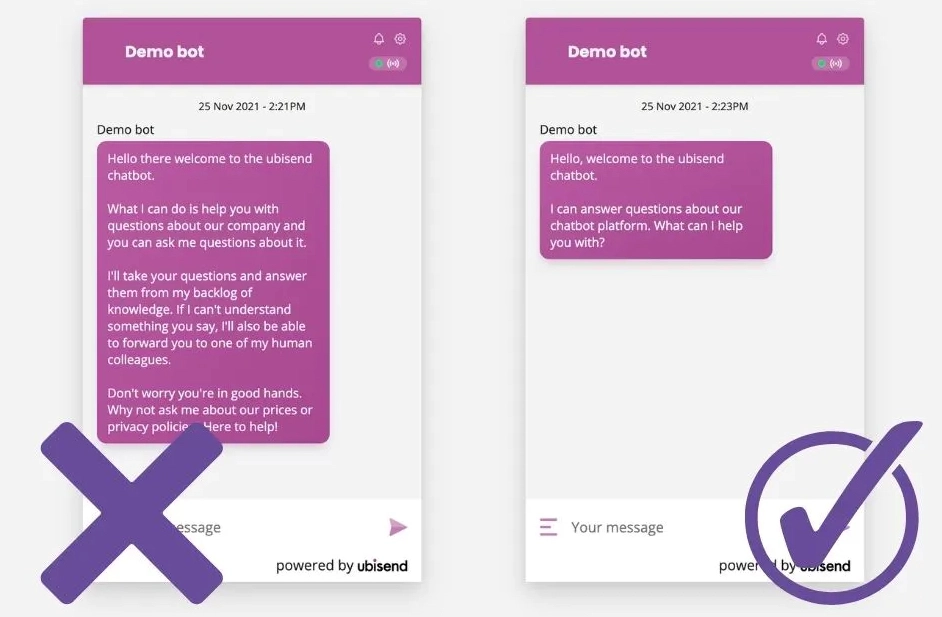 Set a slight delay for your responses to make the engagement feel more naturally paced and human.
Use quick replies for your welcome message to help uncertain customers get started with their journey exploring your brand. It can boost your engagement rates by over 40% compared to an exclusive live chat experience.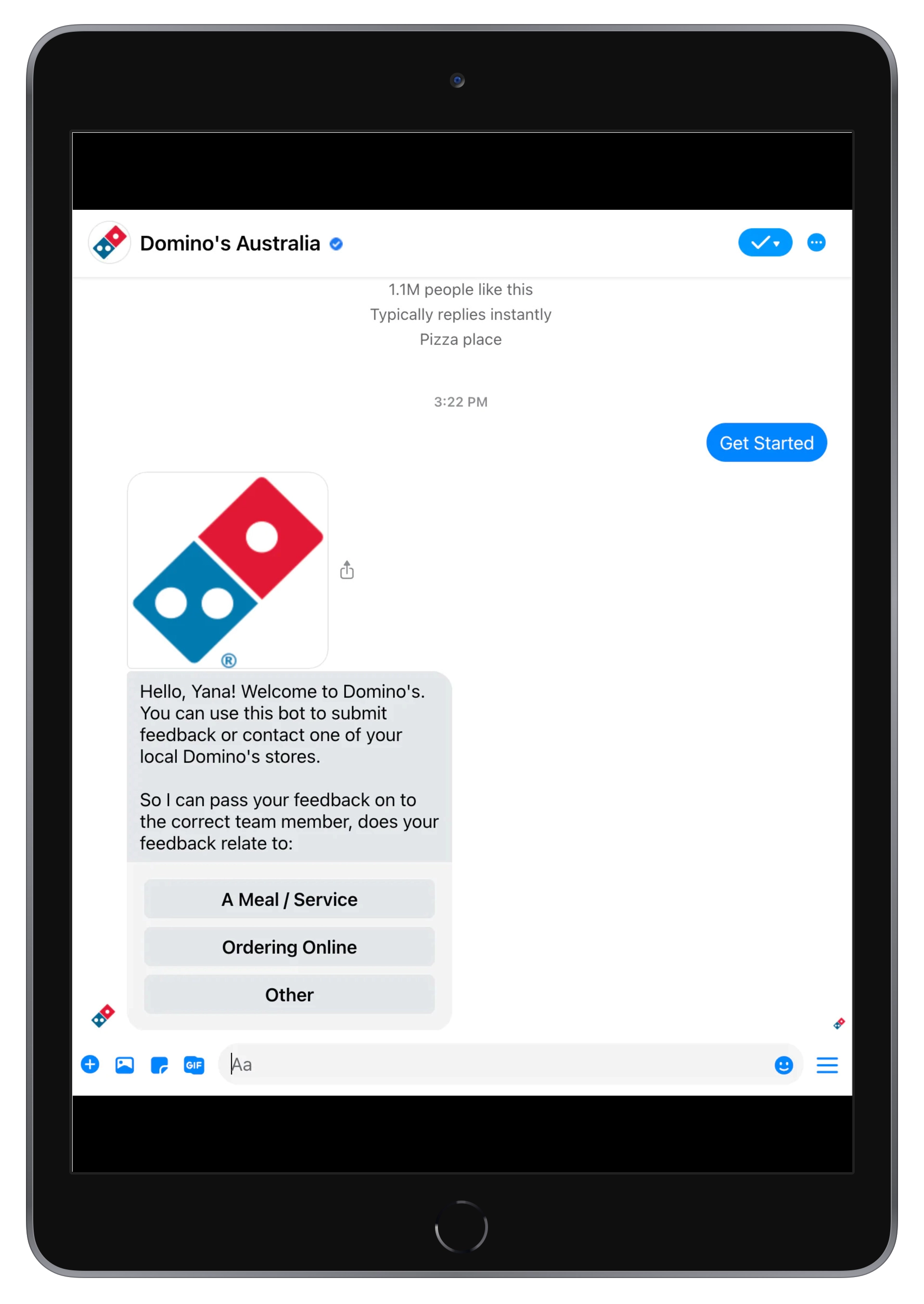 Finish your conversations to set the stage for better engagement in the future. You can ask your customers to share their feedback or subscribe to your bot to get notifications about upcoming offers and sales.
Turn your conversations into lead magnets with Chatfuel
You have the framework to craft an engaging conversational experience. But to keep it engaging, you'll have to dive into your chatbot's user insights and figure out which parts of the conversations they're dropping off at and which are working well.
You can build, launch and optimize your chatbot on Chatfuel without any coding experience needed. Sign up today and get 50 free conversations to engage your customers.