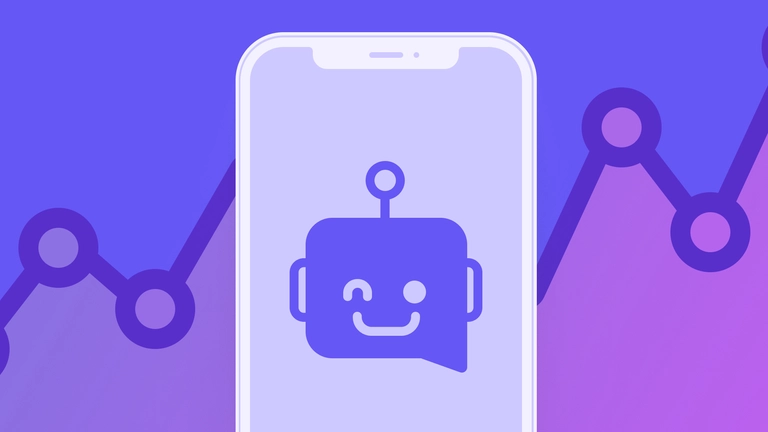 Published January 26, 2023
Chatbots statistics for 2022: usage, demographics, trends, markets
Measure the true impact of automation with the latest chatbot statistics and trends to optimize your business.
There's zero percent doubt that 100% of businesses will embrace some form of automation or another to succeed. You don't need a study to confirm this.
However, if you're interested in automation but confused by speculation, then this post is for you. We'll let the numbers talk by sharing the latest chatbot trends and statistics to measure their impact on businesses like yours.
Since your customer is always the king, let's see how they approach chatbots first.
Customer expectation trends
More than 50% of customers demand businesses to offer 24/7 support.
Over 40% of shoppers shared that they have no preference for a human or chatbot as long as their query gets resolved efficiently.
71% of customers were open-minded in engaging with chatbots.
27% of customers didn't know whether their last customer support interaction was with a chatbot or a human being.
69% of shoppers preferred using chatbots for their instant responses feature and resolving service-related issues.
35% of customers demand that companies leverage chatbots across all channels to improve communications.
38% of shoppers expressed interest in brands using chatbots to share details about new deals, coupons, and promotions.
55% of consumers approved of chatbots sending them location-based deals.
In 2020, chatbots were reported to be the fastest-growing channel for brand communications.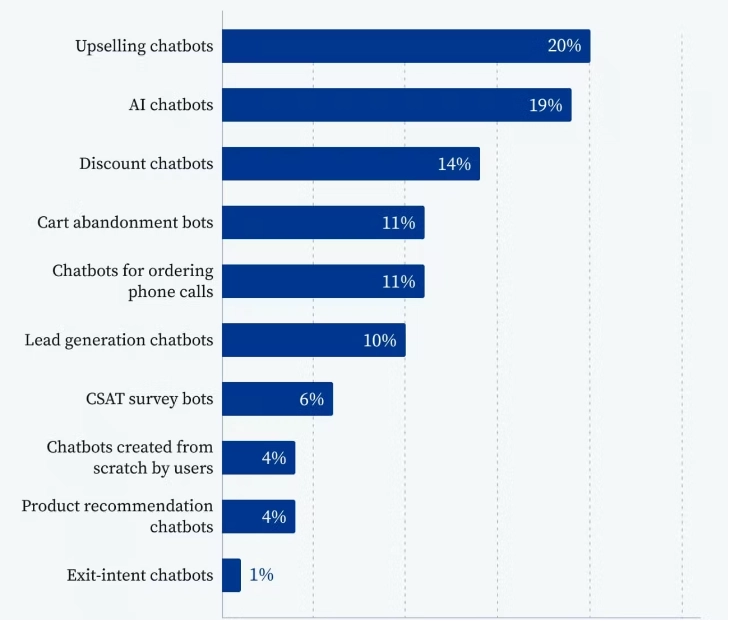 Chatbot demographics
67% of customers worldwide have interacted with a chatbot over the last year.
Companies with up to 50 employees reported the highest use of chatbots.
Messaging apps have over 5 billion of active monthly users. Facebook Messenger currently has more than 300,000 chatbots.
Businesses in the USA have the highest chatbot integrations: 16,000 websites. India, Germany, the UK, and Brazil are also part of the top 5 markets for chatbots.
40% of American, European, and Chinese businesses use virtual agents and chatbots
3 out of 5 millennials have used a chatbot at least once.
Chatbot challenges
59% of users complain about chatbots misunderstanding their requests.
60% of customers feel that chatbots cannot process their requests as efficiently as humans.
Over 50% of consumers feel that brands intentionally use chatbots to delay reaching a human agent.
60% of users prefer to wait for a human agent instead of engaging with a chatbot.
86% of customers expect chatbots to give them the option to switch to a live agent instantly.
63% of businesses reported that a lack of education and training was the most significant barrier to adopting chatbots.
67% of business executives feel they need help understanding chatbot technology and feel underconfident when using one.
42% of business executives lack a clear automation strategy.
Chatbot benefits

64% of customers reported that 24/7 support and instant responses are the most attractive features of a chatbot.
Over 21% of users believe that chatbots can give them quick answers to their routine questions.
Chatbots can cut down customer service costs by up to 30%.
Chatbots can increase sales up by 67% on average.
Over 55% of businesses shared that chatbots triggered a sharp rise in high-quality leads.
Chatbots can tackle conversations with customers 69% of the time without human intervention.
Chatbots will help lower the requests for live agents by nearly 70%.
Businesses can cut their customer support costs by nearly 30%.
By 2023, chatbots will have helped businesses save over $112 billion.
By 2023, businesses will save over 2.5 billion hours thanks to chatbots.
Chatbots are expected to cut costs per customer interaction by $0.70.
64% of brands use chatbots to build a more personalized customer experience.
Abandoned cart chatbots can boost e-commerce profits by 7-25%.
Over 25% of customers trust product recommendations by chatbots over pitches sent by your human sales team.
33% of customers enjoyed using chatbots to make reservations and order online.
64% of employees reported having more time to focus on strategy and creativity thanks to chatbots.
Chatbot engagement trends
41.3% of customers have initiated purchases through conversational marketing tools.
68% of users are happy with the quick response time, and convenience chatbots offer.
Chatbots have an average response rate between 35-40%.
Nearly 33% of customers found chatbots highly effective at solving their problem.
Nearly 90% of customers rated their chatbot interactions between neutral and positive.
The following three departments most widely adopt chatbots in every business:
Sales (41%)
Customer support (37%)
Marketing (17%)
The top two usecases of AI chatbots are voice-to-text dictation (46%) and support team collaboration on tasks (26%).
Chatbot market impact: acceptance of AI chatbots by industry
eCommerce: 34%.
Healthcare: 27%.
Telecommunications: 25%.
Banking: 20%.
Financial advice: 20%.
Insurance: 15%.
Real estate: 28%.
Travel: 16%.
Education: 14%.
By 2023, retail chatbots will be able to cover nearly 70% of customer conversations.
Be a trendsetter and launch your chatbot
Now that you have a deeper understanding of the chatbot industry, your customer demands, and how virtual assistants can fulfill them, you can fully optimize the whole customer journey.
The best part is you don't need any coding knowledge to stay ahead of the trends. Sign up with Chatfuel to build a chatbot customized for your needs within a few clicks.