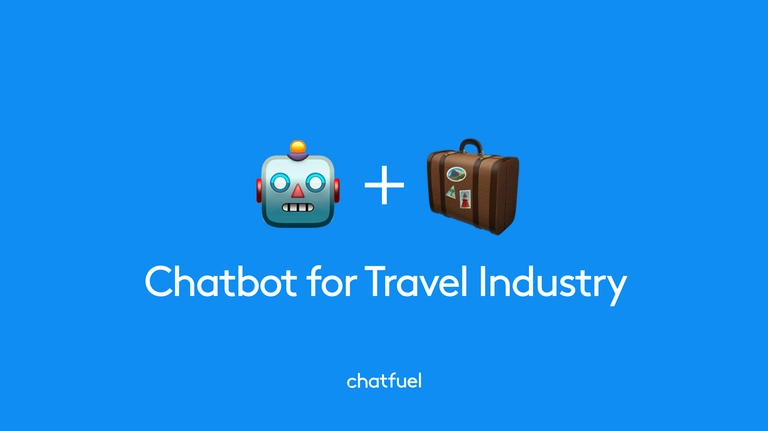 Published July 21, 2023 in
What businesses in the travel industry can achieve using chatbots
Airlines, hotels, travel insurance companies, travel agents can boost revenue and save time with a Messenger chatbot.
Travel is more accessible to more people now than at any other time in history. Though the travel industry is growing exponentially to keep up with demand, there's also more competition than ever. If you have a business in this field and you're looking for a way to boost sales, save time, and stand out from the crowd, it's time you considered a Facebook Messenger chatbot.
Why a chatbot is such an effective tool for travel businesses
People are already accustomed to booking trips on their mobile devices, but they typically use a host of different travel apps and websites to get it done. With a bot, you can simplify this process by bringing it all to one place: Facebook Messenger, an app most users are already familiar with.
Although chatbots aren't designed to completely replace human agents, they can be equipped to handle many tasks as well as a regular employee could. A chatbot can essentially act as a virtual travel agent, offering personalized suggestions based on the user's preferences, answering FAQs, and even accepting bookings and making reservations. If a bot ever encounters a situation it's not equipped to handle, it can easily pass off the inquiry to a human agent. Or, you can build an artificial intelligence (AI) chatbot that can handle most, if not all, questions from users.
Bots for airlines, train lines, hotels, and rental car agencies can make recommendations, show pricing, and accept bookings and payments. Travel agencies and tour companies can put together entire trip packages for a user simply by asking them a few questions about their preferences. Whatever aspect of travel your business covers, it can be handled or at least helped in some way by a Facebook bot.
Plus, a chatbot can provide this helpful, personalized service on demand, 24/7. If a user is in another time zone or doing their travel booking outside business hours, they can still get information or make reservations with your business via your bot. This constant availability shows customers you have their convenience in mind—and it saves you and your team time and money, too.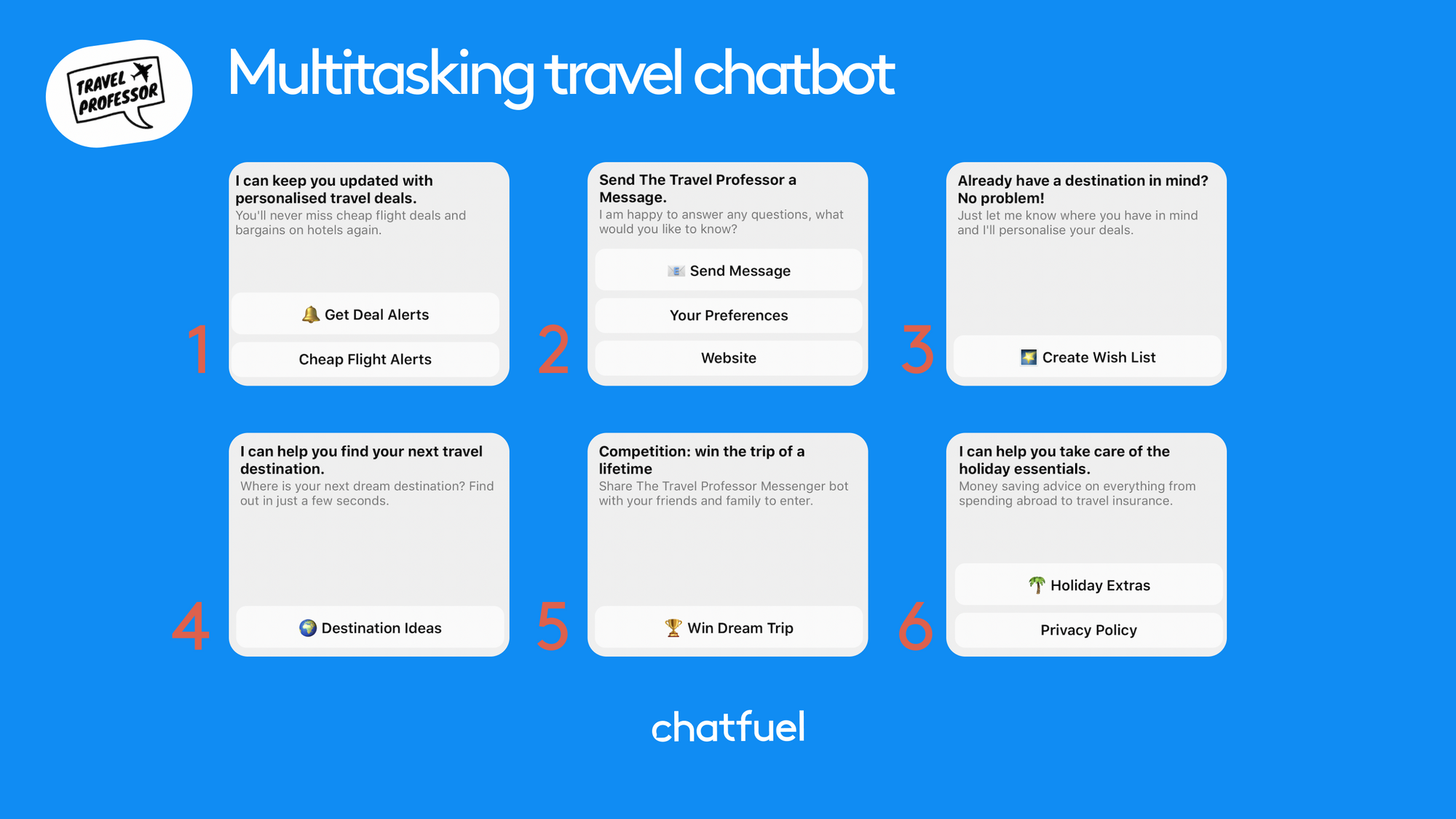 What a bot can do for your travel company
Simplify the user experience. A report by Expedia says that travelers visit 38 different websites on average before booking a trip. If your travel company can decrease this number, you'll be that much more valuable and unique. A travel chatbot can be equipped to help users with all kinds of different travel-related tasks, and all from the same, familiar Messenger app.
Make recommendations. If you're a travel organizer or agency, a bot can take over a major portion of your workload. By asking simple questions in a humanlike, conversational style, your bot can figure out what the user is looking for in a trip and make helpful recommendations—just like a personal travel assistant. Based on the prospect's preferences for budget, type of destination, etc., a bot can almost instantly return suggestions for a holiday that meets their needs. Or, for hotels, car rental agencies, cruises, or travel insurance, your bot could bring up the best matches for a particular destination with all the relevant information, making it easy for the user to view and compare pricing and details of each without visiting multiple websites or pages.
Accept bookings and payments. A chatbot for your travel business can even be equipped to take a customer through the sales funnel and close a deal. Bots can be designed to book airline tickets, hotel rooms, rental cars, tours, and more right within the Messenger app. The user won't have to download a separate app, fill out a cumbersome web form, or create an account on a new site. They can simply enter their credit card information into Messenger one time, and it'll be saved there for future, seamless transactions.
Share inspiration and tips. It's not only travel-booking agencies or sites that can benefit from a bot. Even travel bloggers and influencers can use them to share their content in a more engaging, personalized way. For example, if a user asked for packing advice or tips on travel to Paris, the bot can easily suggest any/all blog content you have related to that subject.
Provide customer care. Chatbots in the travel industry can can be equipped to deal with all kinds of routine issues. This means that customers can get solutions to many types of problems, day or night, without having to look up a support phone number, wait on hold, or call back during business hours. For example, your chatbot could assist users in submitting a travel insurance claim, rebooking a missed flight, or changing a hotel reservation, all through a few simple steps within Messenger. Whatever common issues your customer support team normally deals with can likely be handled by a bot.
Tips for supercharging your travel bot with Chatfuel
The Chatfuel platform is packed with useful features to help your business get the most out of a chatbot. Make sure to take advantage of these when you build your Messenger travel bot:
Acquire Users from Comments. Once you have your travel bot built, you'll want to get as many users to it as possible. One great way to do this is through our Acquire Users from Comments feature. You can send a welcome message to anyone who comments on your Facebook page posts, or to anyone whose comment includes a specific keyword. For example, your bot could send an introductory message about your Barcelona trip package to any user whose comment on your post (s) includes the word "Spain". It's a great way bring users who are already interacting with you on your page to your bot.
Linking Facebook ads to your bot. Is your travel business already advertising on Facebook? Great! Once you have a well-built chatbot, you can run click-to-Messenger ads that will send users who click right to your bot.
Synced Cloning. If your travel-related business has multiple locations, like a hotel or city tour company, Chatfuel's Synced Cloning feature will save you lots of time. If you want to change an aspect of your bot that relates to all your locations, you don't have to update each one individually. Instead, you can update a master bot and instantly apply the changes to all the others. That way, you can keep the flow and feel of your bots consistent with just a few clicks.
Travel bot success stories from Chatfuel clients
Virtually any type of business in the travel industry, large or small, can benefit from a Messenger chatbot. Accommodation (hotels), transport (airlines, airports, cruises, car rental, train lines), travel insurance companies, travel organizers or agencies, and even travel bloggers and influencers can all expand their businesses with a bot.
To get inspired, look to one of our users, Chit Chat Agency, who built a chatbot for their travel business client. Check out their case study and try chatting with the bot for The Travel Professor, which offers personalized holiday recommendations and packages for UK residents.
Build a bot for your travel business today
Now that you know how impactful chatbots in the travel industry can be, we've got even better news: You can build a bot yourself, today! The function of Chatfuel is to let business owners and marketers build chatbots easily—no special knowledge or coding skills required. Plus, it's free to get started, and we even have a hotel-bot template you can use. Sign up for your free Chatfuel account today.