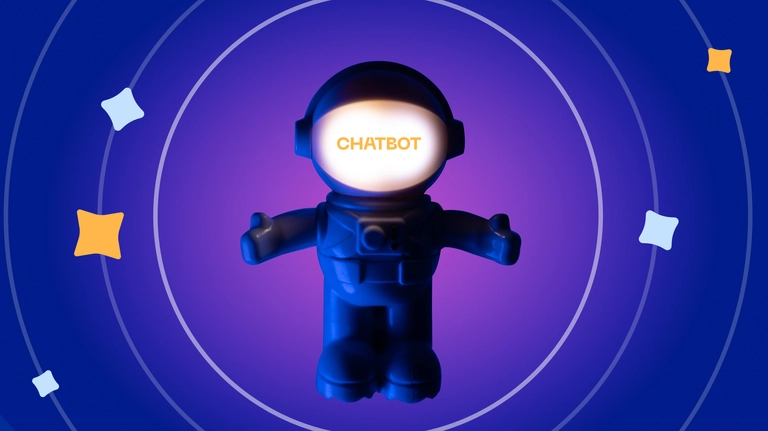 Published October 18, 2022
10 successful chatbot examples used by businesses to boost conversions
Want to boost conversions and reduce your workload at the same time? Here's how 10 brands achieved this using automated chatbots.
Does a chatbot sound too futuristic for your business? Then let's get realistic.
A recent report revealed that 70% of online shoppers pick a chatbot over a human agent if it cuts down their waiting time.
Businesses like yours, companies that you look up to, even the brands you personally shop from are using chatbots to boost their conversions as you read this.
So the future is already here.

What is a chatbot?
A chatbot is a software application that simulates human conversation. It processes a request made by your customer and sends them the right response.
Whether your customer wants to book an appointment, download a free guide, or buy your product, your chatbot directs them to take the next step.
It doesn't matter if your business gets one query per minute or a 1000, your chatbot will instantly respond to each customer any time of the day.
But can a simple chatbot fulfil your unique marketing, sales and customer service goals?
We'll let the results speak for themselves.
In this article, we'll be sharing 10 successful chatbot examples used by businesses that took their conversions to the next level.
KLM Royal Dutch Airlines achieves a 40% increase in customer interactions with Messenger
KLM's customers spent a lot of time on their Facebook page, but it's not a place that allows them to share sensitive travel information.
So KLM decided to opt for a messenger chatbot and updated their page with a "Send Message" button. This allowed customers to seamlessly and safely exchange their travel details.
Within a few months, KLM's newly automated messenger bot got higher satisfaction scores compared to any other of their social channels.
How? By turning it into a travel agent you can carry in your pocket that can assist you in every phase of your journey.
You can check ticket prices, get booking confirmations, check-in and flight status updates, and receive your boarding passes through the chatbot, all in real time.
They achieved a 40% increase in customer interactions and almost 15% of boarding passes were being sent through their customer service chatbot.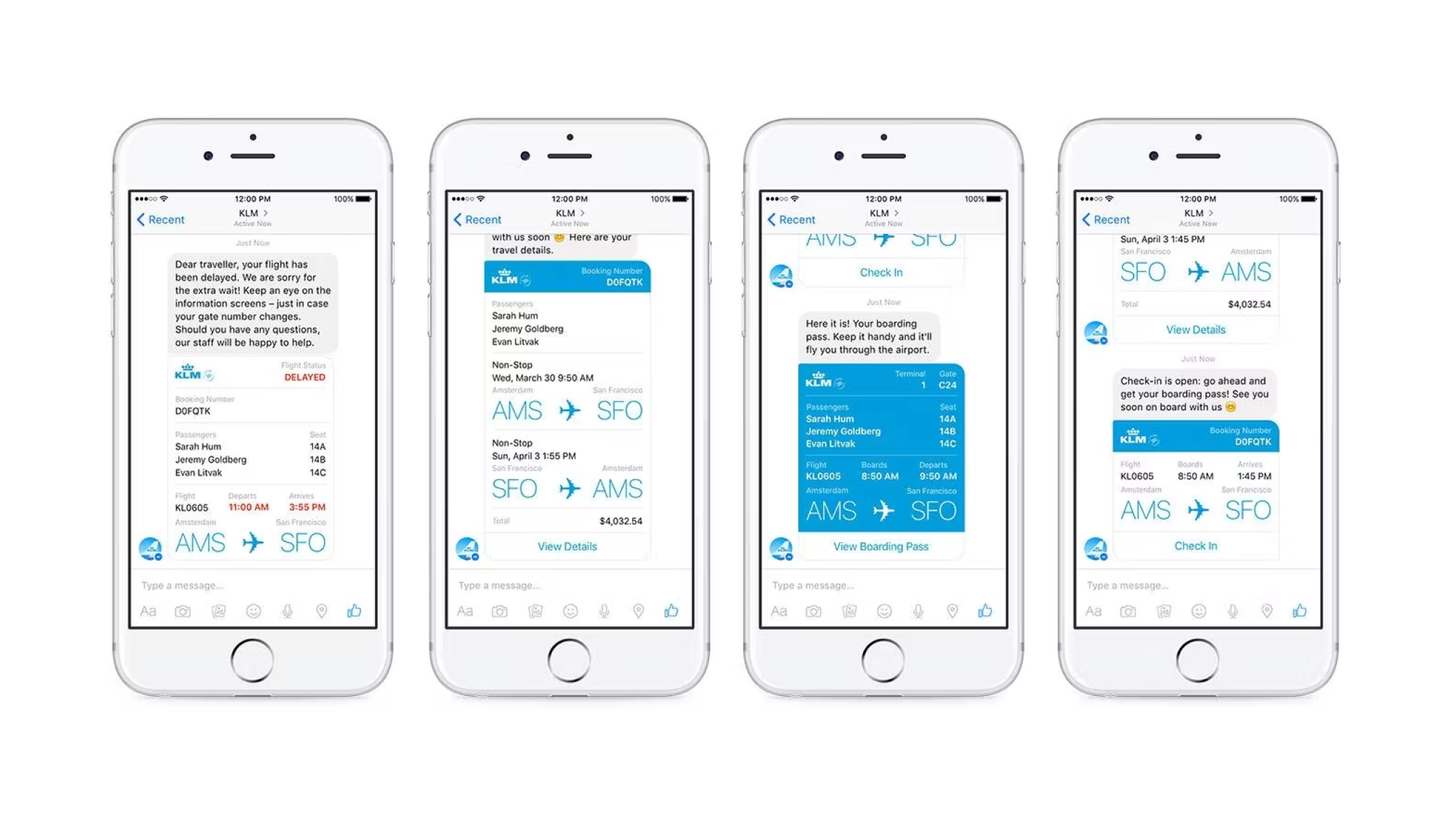 Duolingo's chatbot personas help people learn languages faster
There's no substitute for real conversation when it comes to practicing a new language.
Unfortunately, people can't afford a tutor to help them refine their skills day to day. They also feel embarrassed to practice with friends when they're still stumbling and fumbling with their words.
Duolingo took care of both concerns and delivered one of the best chatbot examples in the educational space. Customers could finish a lesson and instantly put their knowledge into action at their own pace.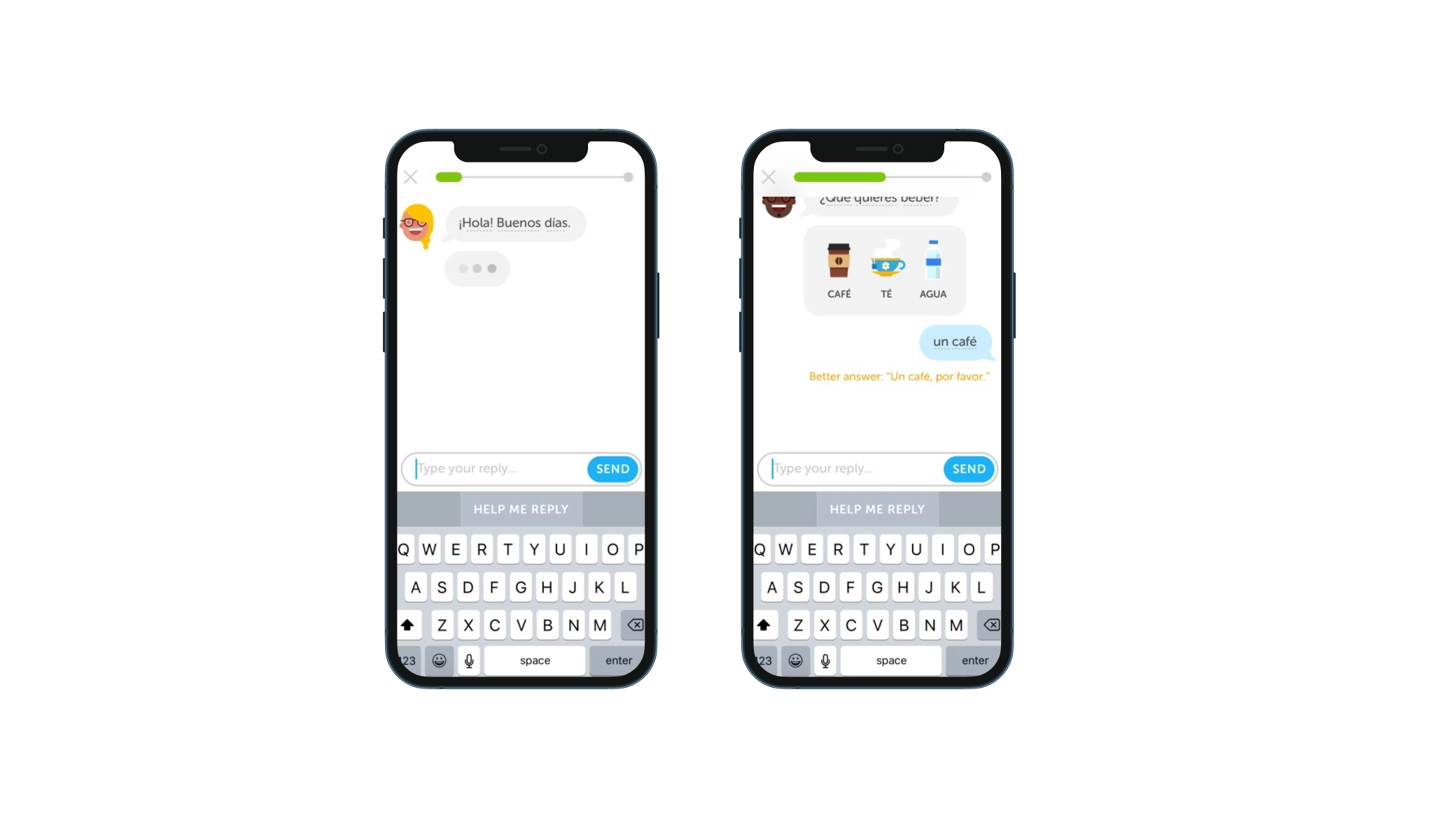 You could partner up with friendly human-like AI chatbots and start a simple conversation sequence around a particular subject. The interactions offer a unique user experience and get more complex as they get better with their language skills.
You could request the bot to suggest an appropriate response if you get stuck to keep the conversation flowing. These features helped Duolingo to increase their engagement rate and course completion numbers.
Art'Fact automates consultation bookings to nail an 86% conversion rate
Beauty brand Art&Fact's Instagram account was attracting a ton of queries from people about which products are ideal for their skin. So they tried to run a basic test promo: 100 video consultations on Zoom, 30 minutes each.
When their two-week long attempt to launch this promo didn't work out, they tried to launch it with the help of a chatbot this time.
Users who expressed interest were automatically sent a message to complete a survey and book a Zoom meeting with a skincare professional through Calendly.
Guess how long it took to set up this chatbot? Only 40 minutes.
It boosted Art&Fact's engagement rate significantly, and 86 out of 100 promo participants bought the product recommended to them.
A clever PR stunt by Domino's leads to a 35x return on advertising spend (ROAS)
Domino's has been using a chatbot for ordering pizza online on their website for a long time. But they had not been able to popularize this process through social media platforms yet.
So they decided to debut their first ever dating bot called Dom Juan during Valentine season. They teamed up with Tinder users to give them some pun-packed cheesy pick-up lines and funny GIFs for engaging other users.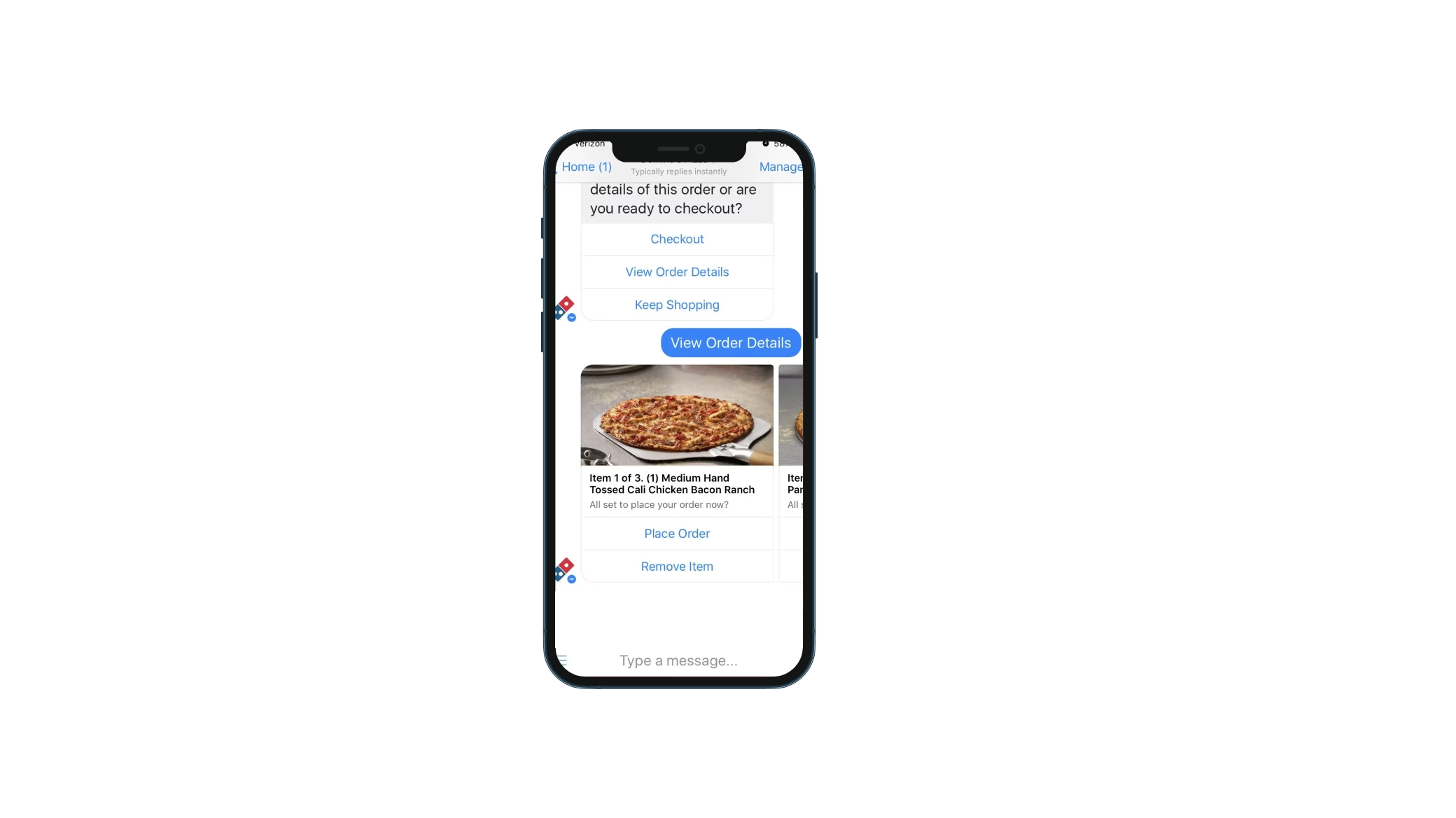 This off-beat approach to target the festive season and show their brand personality in a unique light made Dom Juan go viral overnight.
Domino's reported a 35x return on advertising spend and a 10% boost in sales compared to the previous year.
L'Oreal saves hundreds of hours by automating their early hiring rounds
Every year, L'Oréal offers 15,000 new job openings for which it has to process over a million applications. Unfortunately, their workforce had to compromise their productivity for several weeks during hiring season.
Enter Mya — a chatbot rolled out by L'Oréal that could automate the early part of the recruitment cycle and save the time of their employees. Mya can pre-screen candidates, deliver status updates, respond to FAQs, and assign them tasks.
L'Oréal's HR team shared that they saved over 200 hours of time to recruit 80 interns out of a pool of 12,000 candidates.
CodEye's Messenger bot optimizes their content & ad targeting to earn 194% return on investment (ROI)
Media company CodEye Technologies had a well-designed app and a popular following. But they were struggling to engage readers and were getting merely 20-30 app installs for every $100 they invested in Facebook ads.
So they decided to use a messenger chatbot to push targeted content and promote a gaming referral program.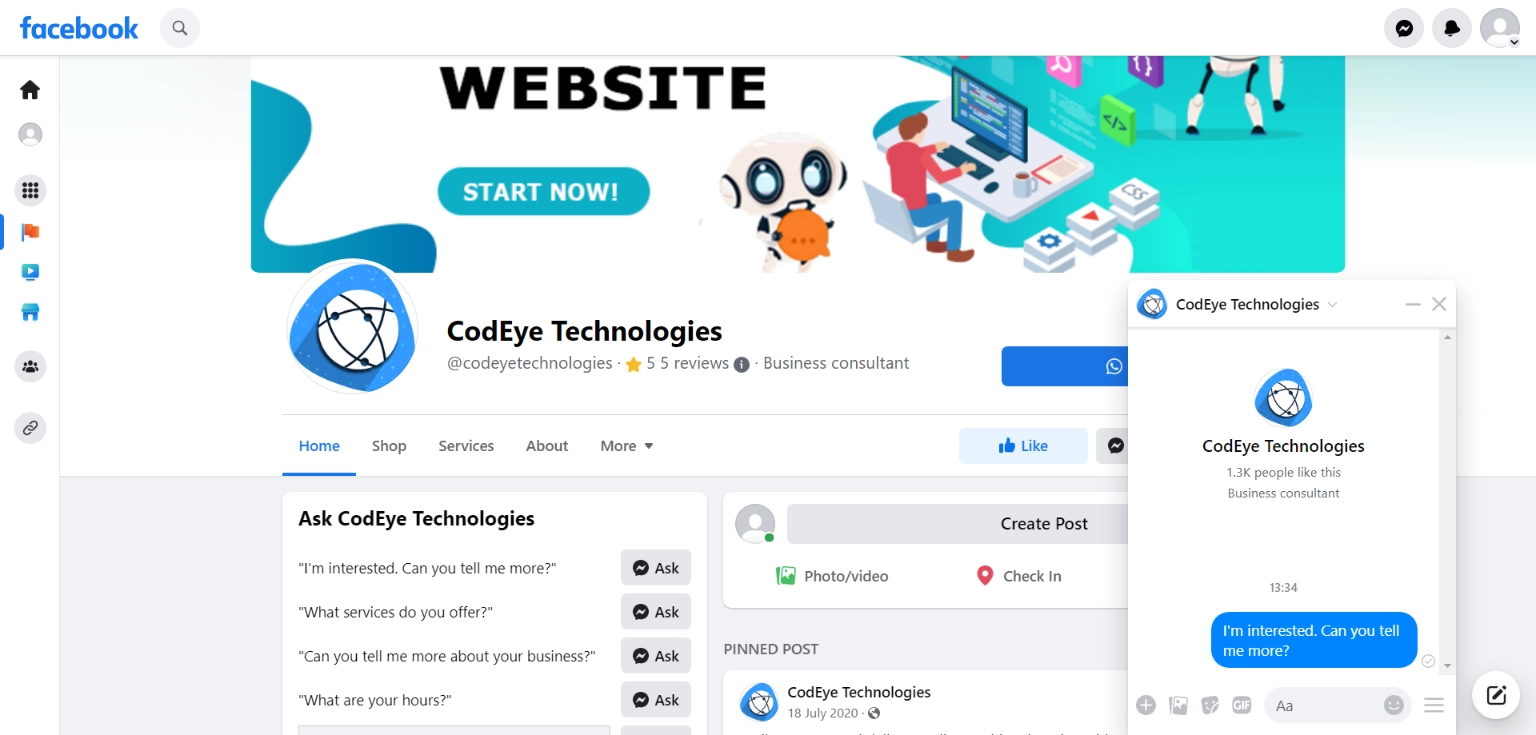 They could also build lookalike audiences to direct the most relevant ads and content to each reader.
CodEye now had enough organic referrals to cut their cost per acquisition to $0 and earn 194% ROI. They also boosted their app installs by 40% and organic engagement by 30%.
Mindvalley's chatbot boosts their masterclass signups by 522%
For educational tech company Mindvalley, its masterclass signups is their biggest success metric since it brings in most of the company's revenue. They depended on swipe up stories and link in bio to promote their masterclasses.
But they weren't hitting the lead generation targets they aimed for.
So they decided to innovate with an Instagram chatbot to create a more personalized offer for each user.
People could now type a specific word and be directed to a relevant masterclass on that topic. They were given the option to sign up or read a quick summary of the takeaways from each class.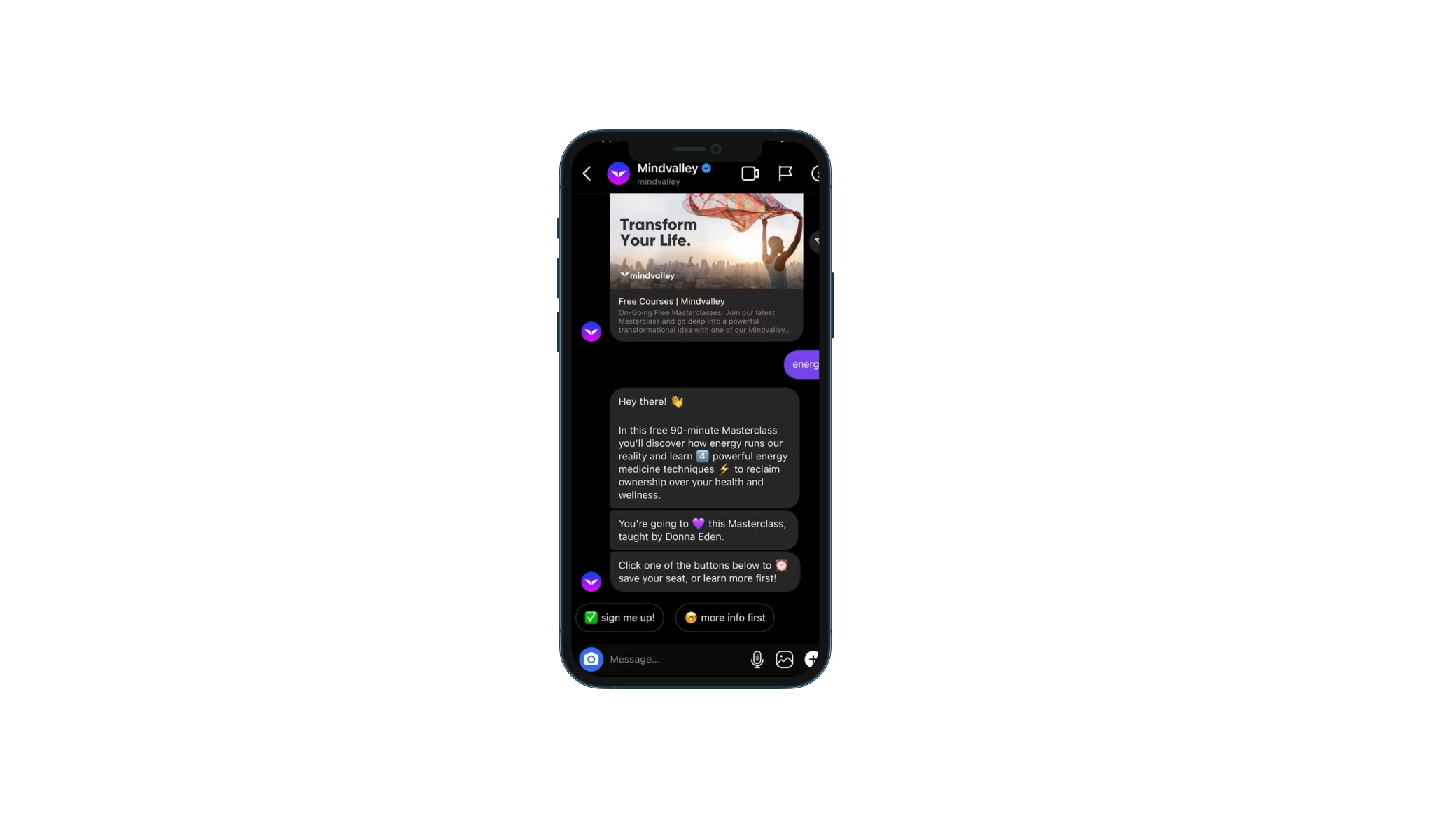 This helped Mindvalley boost their masterclass signups by 522% and reduce their Instagram response time by 99%.
Lego's chatbot starts driving 25% of their social media sales
Lego has to walk a fine line when it comes to their brand voice as they have to appeal to both the kids and their parents buying the products.
However, most adults are not familiar with the new line-up of Lego sets, which led to long consultations with human agents or made them drop the idea of buying it.
They decided to launch a Facebook messenger chatbot called Ralph to solve this problem. The chatbot conversation begins with a series of questions to determine their child's tastes and needs, which presents them with the best options.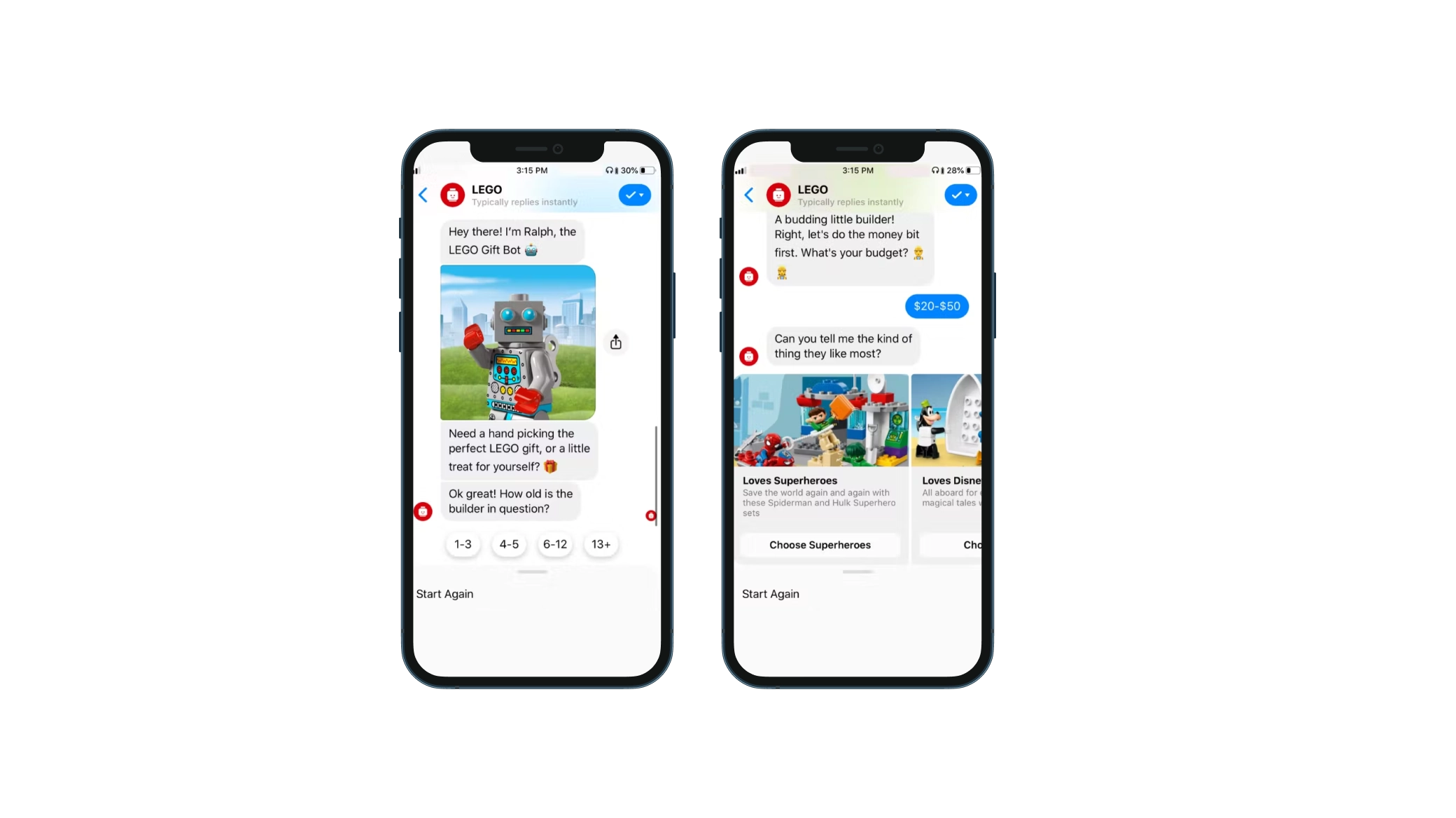 Soon, Ralph started driving 25% of Lego's social media sales and delivered a cost-per-conversion 31% lower than Facebook Ads.
3D Mats solves three problems with one chatbot and increases yearly ROAS by 999%
There were three big problems holding the productivity of 3D Mats hostage:
A customer service team overburdened by the simple repetitive questions of site visitors leading to longer response times.
No clear idea of their target audience, which made it difficult to create relevant content.
Poor conversions from their Facebook ads.
The team realized how all these problems were connected and used a chatbot builder to create their own solution.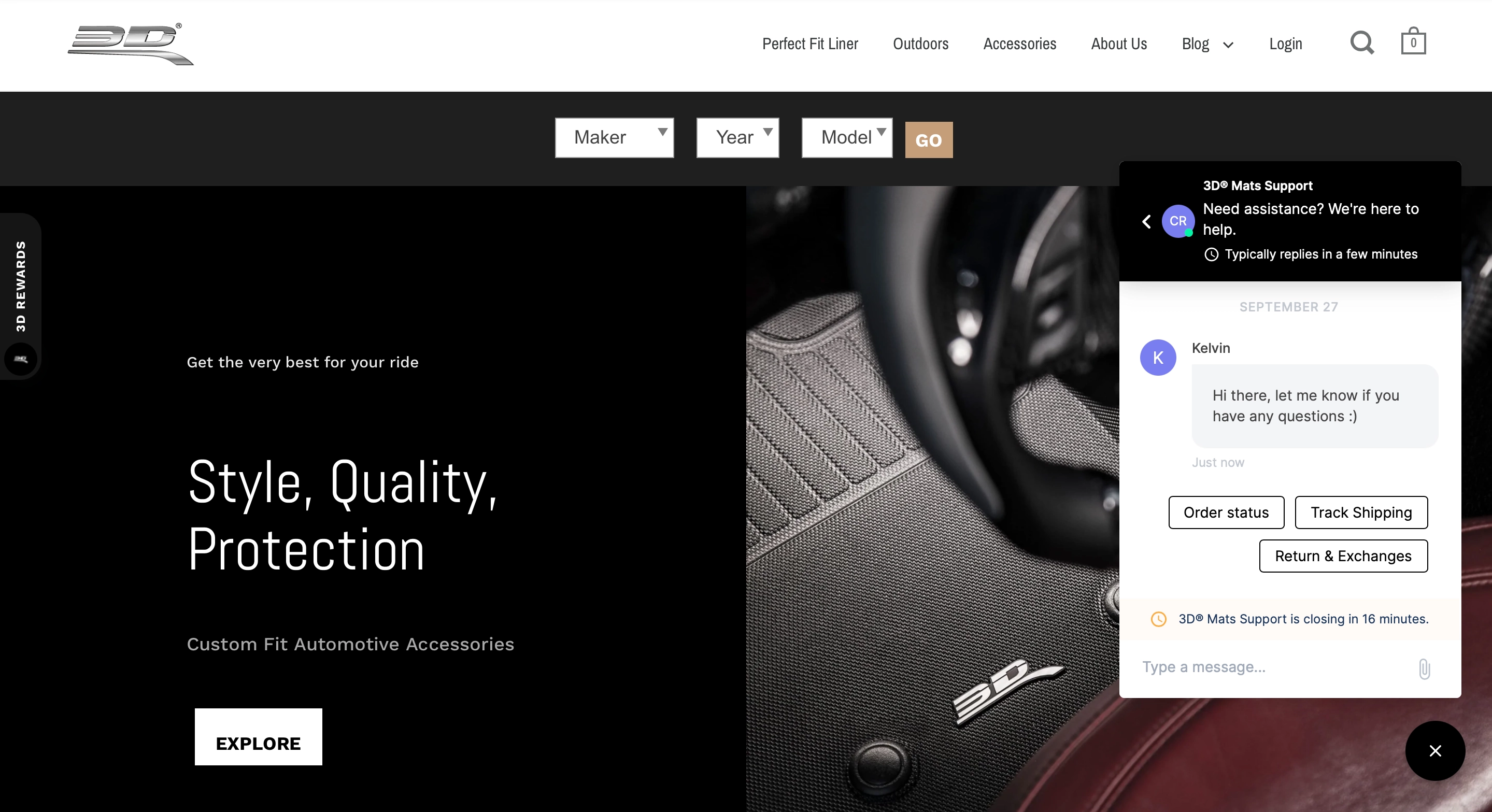 They set up an autoreply feature, which would be triggered when someone used a specific keyword to answer any FAQs. People could also take a quiz to get better product recommendations for their car. It helped the cut down their repetitive inquiries by 70%.
Thanks to the updated customer data gathered by their chatbot, the digital marketers of 3D Mats optimized their Facebook ad performance. Their yearly average return on ad spend (ROAS) went up to 999%.
Leadpages increases their website conversion rate by 36%
For a platform that helps businesses create landing pages, Leadpages was struggling to convert the leads from their own landing pages.
So they set up a customer support chatbot to send welcome messages and initiate a customer interaction. This boosted their live chat conversations by 267%.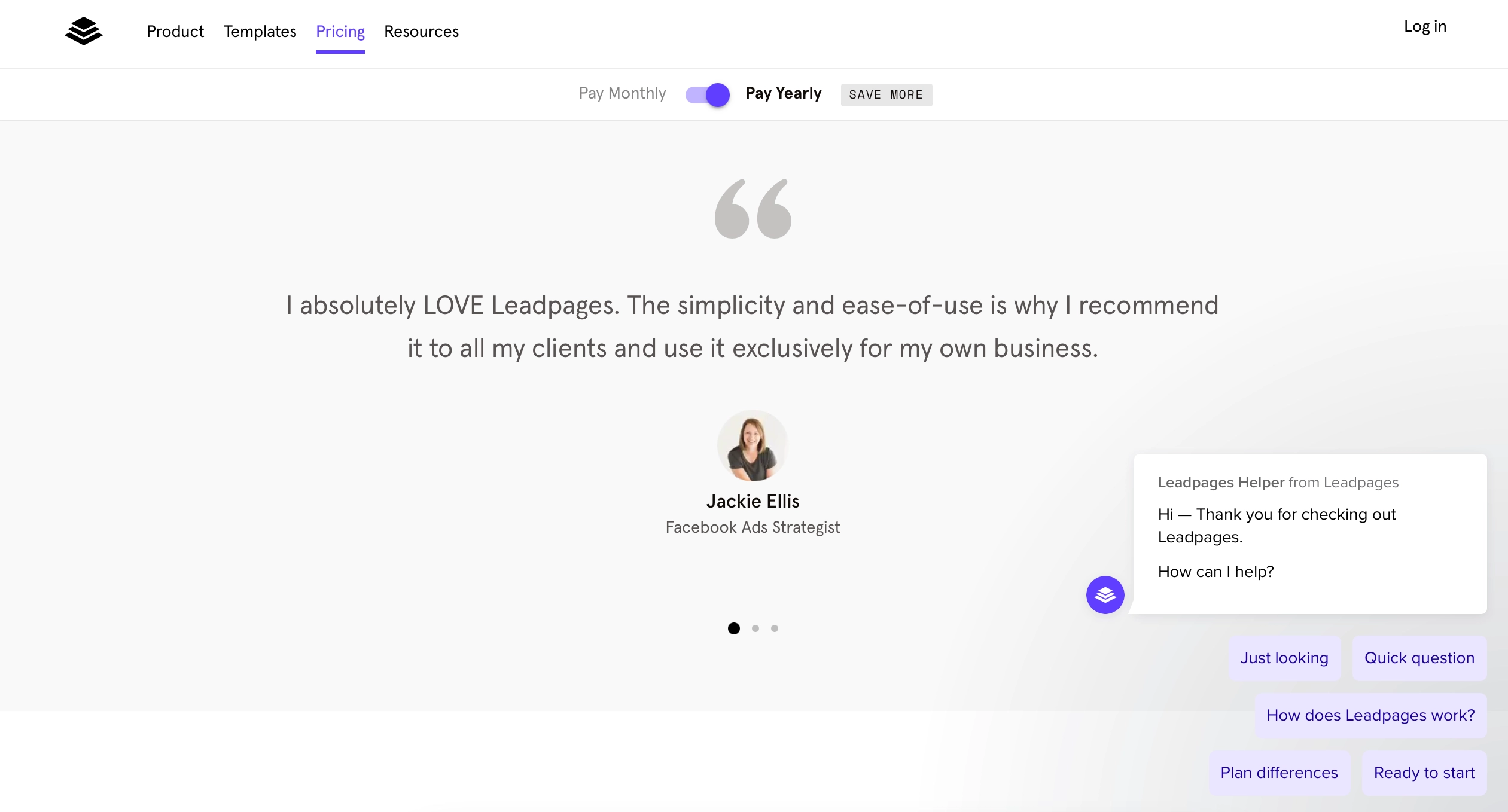 The number of qualified leads shot up as the bot started sending targeted messages, which increased their website conversion rate by 36%.
Are you ready to automate and become the next success story?
Imagine your business joining this list as a case study someday. No matter what industry you belong to, you can find a chatbot example to suit your goals. Automated conversations can guarantee a competitive edge when you use the right chatbot and enhance your customer experience.
And you don't need to hire a team of coders or spend hours learning about automation. Art&Fact built their chatbot in just 40 minutes using Chatfuel code-free platform. So sign up for a free account and build your own chatbot with just a few clicks too.
‍