Published November 9, 2022
Best eCommerce chatbots that can boost your business
eCommerce chatbot: what it is, how to use it, examples and benefits for your business. Bonus: free chatbot templates to use right away.
Imagine that you have an assistant that handles up to 80% of all standard simple questions and communicates with prospects 24/7. With a chatbot for eCommerce, such an assistant is affordable and simple to implement. And it's a perfect time to get started with automation if you haven't yet.
Chatbot transactions for eCommerce shops are projected to amount to $112 billion by 2023, per an estimate by Juniper Research. On the other hand, businesses that don't adopt automation have more challenges. The main reason is the high cost of using only human agents for lead generation, marketing campaigns, customer support, etc.
But there's good news: launching automation is even easier now with eCommerce chatbot templates.
Keep reading to learn what eCommerce chatbot is and how it can benefit your business, see examples, and get the free chatbot templates.
What is an eCommerce chatbot?
eCommerce chatbot or eCommerce AI chatbot is an automated solution that helps online retailers engage customers, motivate them to purchase, answer their questions, collect data, etc.
You probably have interacted with a chatbot yourself while browsing and shopping online. Since many stores work offline and online (or online only), implementing a chatbot became popular.
How to start using a chatbot for eCommerce?
To start using a chatbot, you don't have to run a big business with a large turnover or have coding knowledge. Today, most small and medium-sized businesses choose between a range of eCommerce chatbot platforms to build and launch automation. The main reason is that automation is more affordable and improved than before.
How do chatbots work?
Depending on your business goals, you can set up a bot to respond to customer FAQs, ask them questions, collect answers, feedback, contact details, and more.
For example, your eCommerce Messenger bot can interact with prospects on Facebook, your store's website, or both. You can also connect chatbots to WhatsApp, Instagram, and other socials to automate conversational marketing across platforms.
On average, bot-only chats get a customer satisfaction rate of 87.58%, while one in five live chats is ignored and not answered. With these impressive metrics, chatbots help businesses improve lead generation, sales, customer support, advertisement, and more.
What is the benefit of chatbot for eCommerce?
All chatbots are constantly online and interact with customers all days a week, 24/7. Well, they do it until you turn them off. And that's definitely a superpower that no human can beat.
It's probably the most well-known but not the only benefit for any business that aims to optimize resources and costs. According to Juniper Research, as AI-powered chatbots get more sophisticated at responding to customers, retailers can expect to cut costs by $439 billion a year in 2023.
So let's look at the main benefits of chatbots in eCommerce:
Generating more leads

eCommerce chatbots automatically send out promo codes and newsletters across social media platforms. Plus, you can set up your automation to send relative messages to your audience. For example, let people select a product category they're interested in and send your exclusive offers in this category only. That way, people see what they want and most likely purchase.

Increasing sales

eCommerce bots are smart enough to analyze your leads' intents and preferences to recommend your products and services and motivate them to purchase. For example, you can set up a navigational menu within your chatbot to tell users about your business, ask them a few discovery questions and recommend your products.

Improving customer service and support

Smart AI chatbot for eCommerce answers most user common questions about your business. For example, your location, contact details, refund policy, discounts, etc. You can also set up an automated response to user messages that the bot couldn't recognize and add an option to contact you or your store's manager directly. That way, people quickly get answers, and you can step in to solve more complex issues.

Boosting ads

Advertising is essential for eCommerce businesses. And automation helps to take out the maximum of your ads. For example, you can set up your ad on Ads Manager and sync it with your chatbot. That way, Meta's tools help you target the largest audience on social media and use ads that send people directly into conversation with your business. And that's where your automation starts interacting with leads and does all as above to help you boost lead generation, sales, and customer support.
eCommerce chatbot free templates and examples
Today implementing and using eCommerce business chatbots has become easier. You can still build your own automation from scratch or find and copy a suitable chatbot template.
The good thing about templates is that they already have pre-built conversational flows, sample messages, and buttons. All you need to do before activation is to customize it and connect to your socials.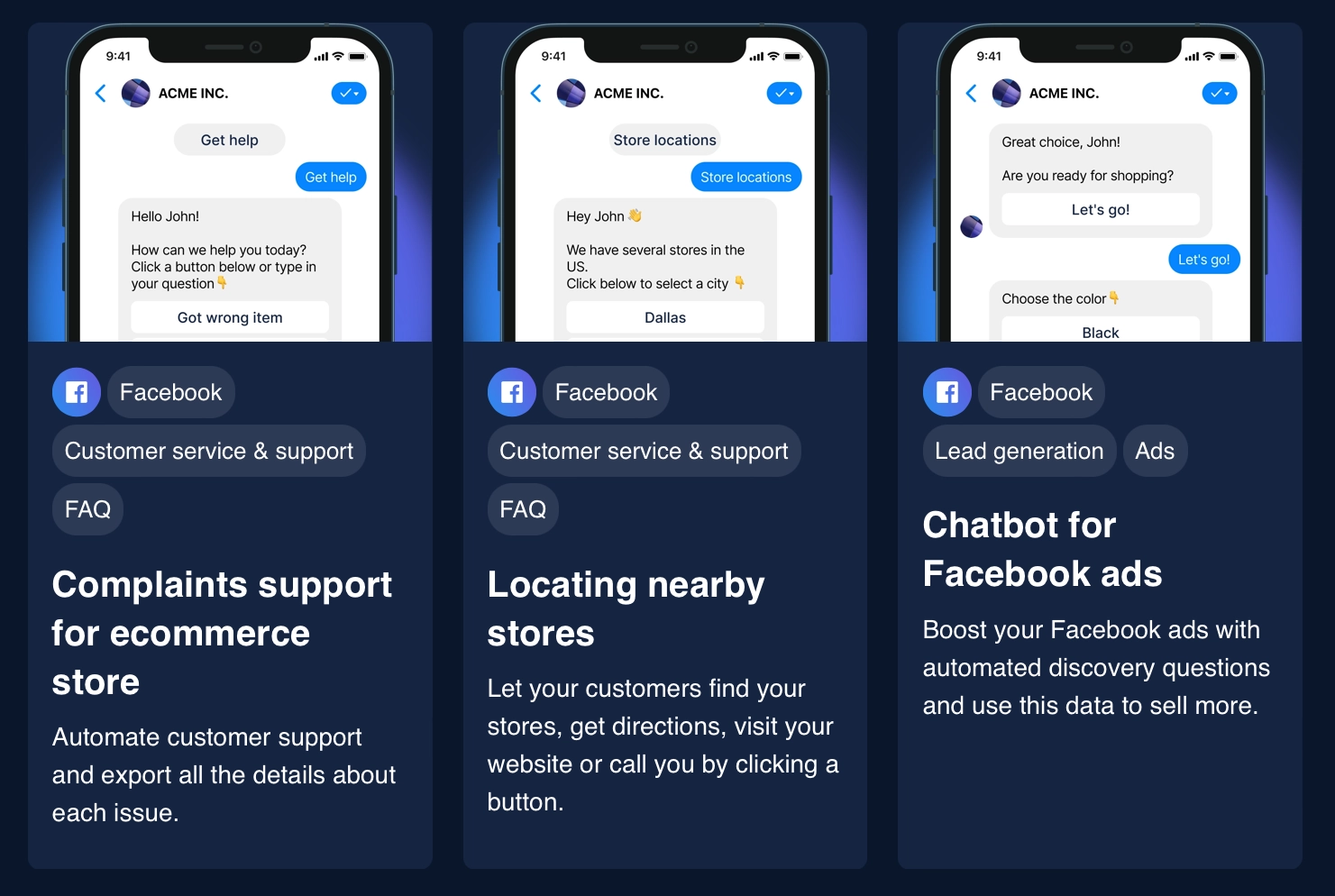 Let's look at some eCommerce chatbot examples and use cases. You can copy any of them for free by clicking on the button 'Get this bot for free.'
Generating more leads
With this template, your chatbot encourages leads who click on your Facebook ads to make the next step: purchase at your online store. Your bot asks customers to specify product details and share their contacts. You can export all lead data to your Google Sheets or email and use it to process orders and future marketing campaigns.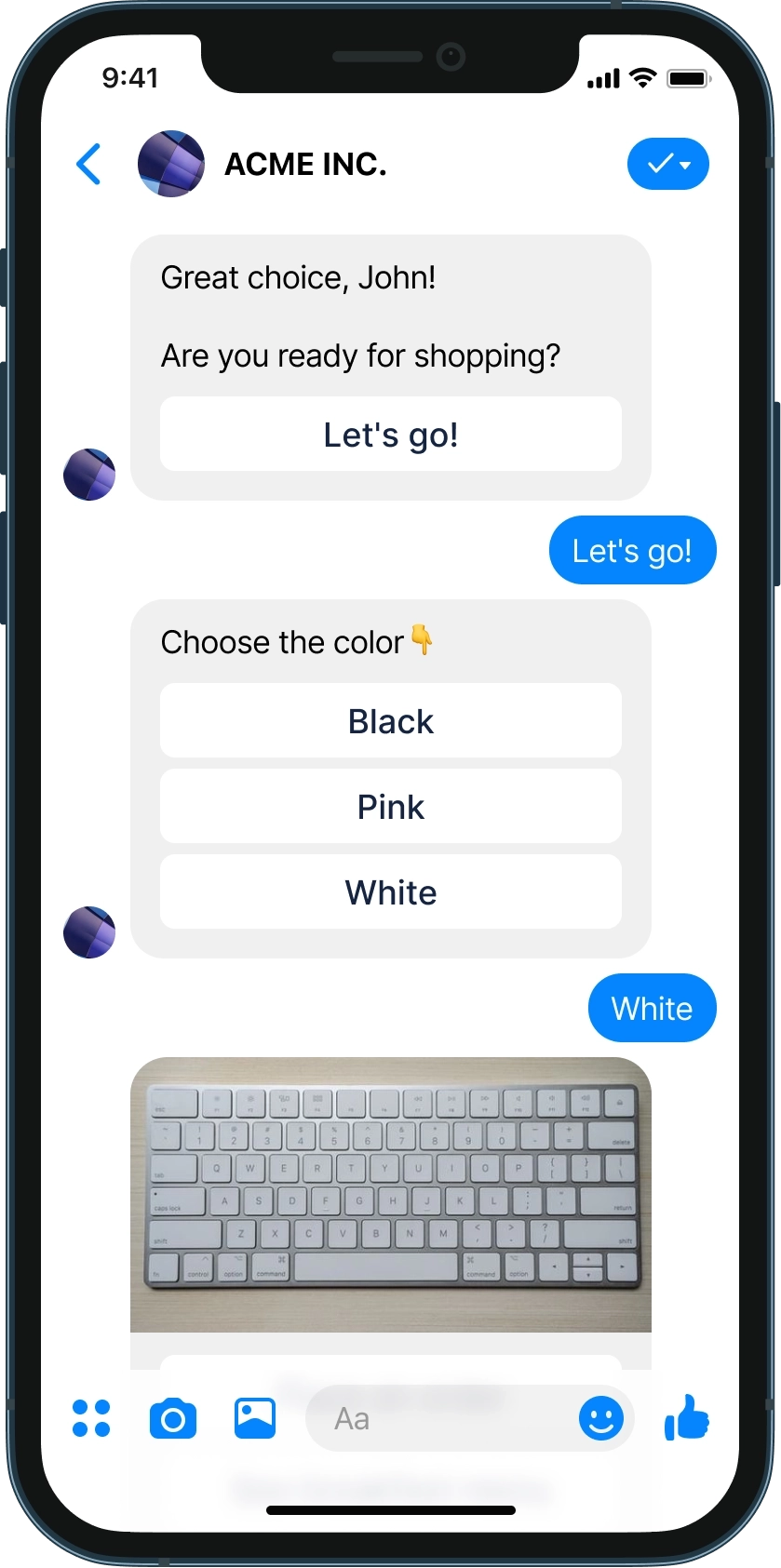 Increasing sales
With this template, your chatbot performs a product recommendation quiz and lets people navigate inside the automation. For example, view your products by category, go back to the main menu, visit your website, or contact you for help. As a result, your chatbot takes consumers through the sales funnel and converts them into your e-commerce store customers.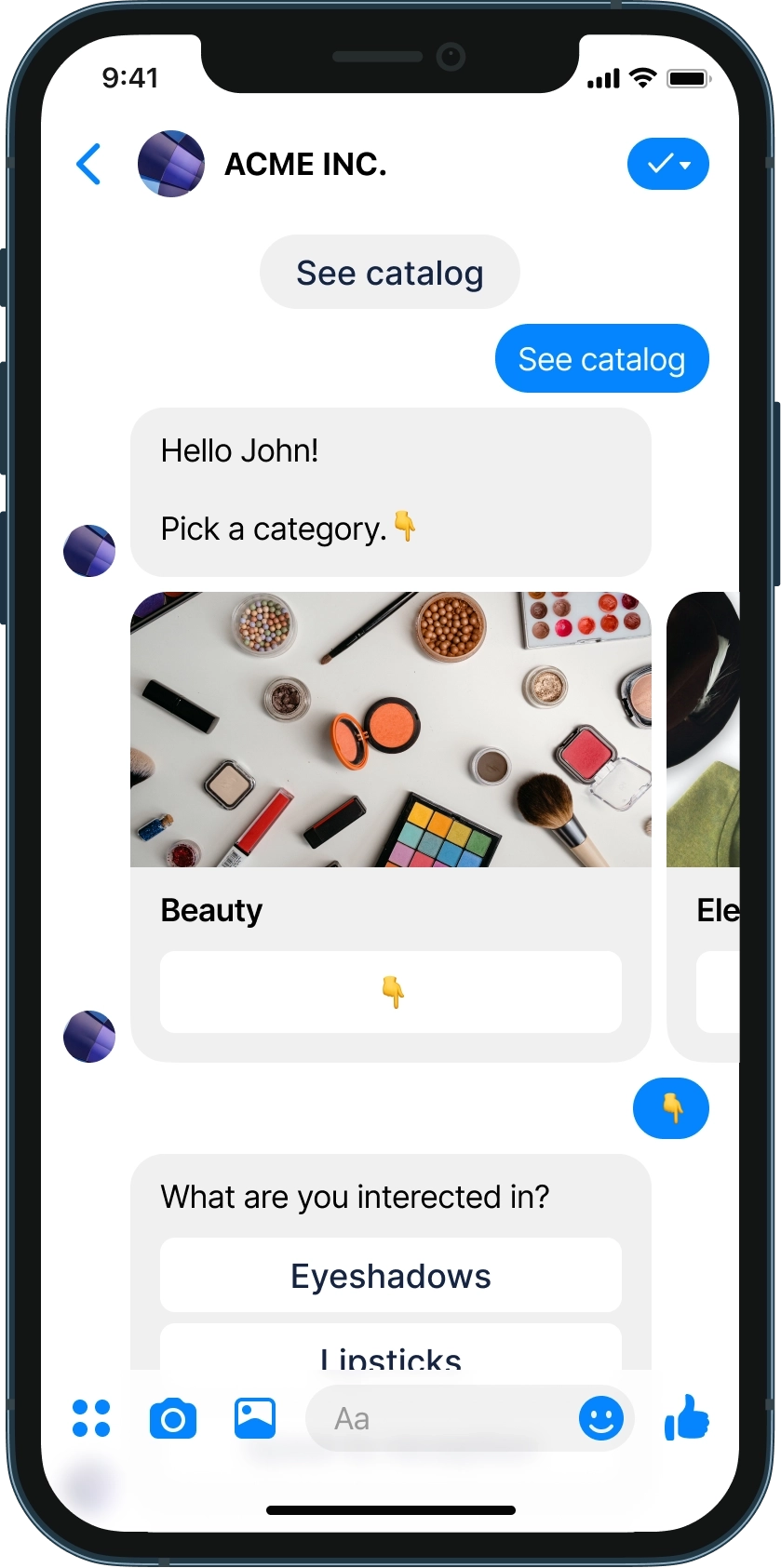 Improving customer service and support
With this template, your chatbot works as a store finder and locator. It lets customers choose the city and your closest store in it, get directions, visit your website or call you — all in one place. In addition, you can add unique details about each store, attractive images, and more.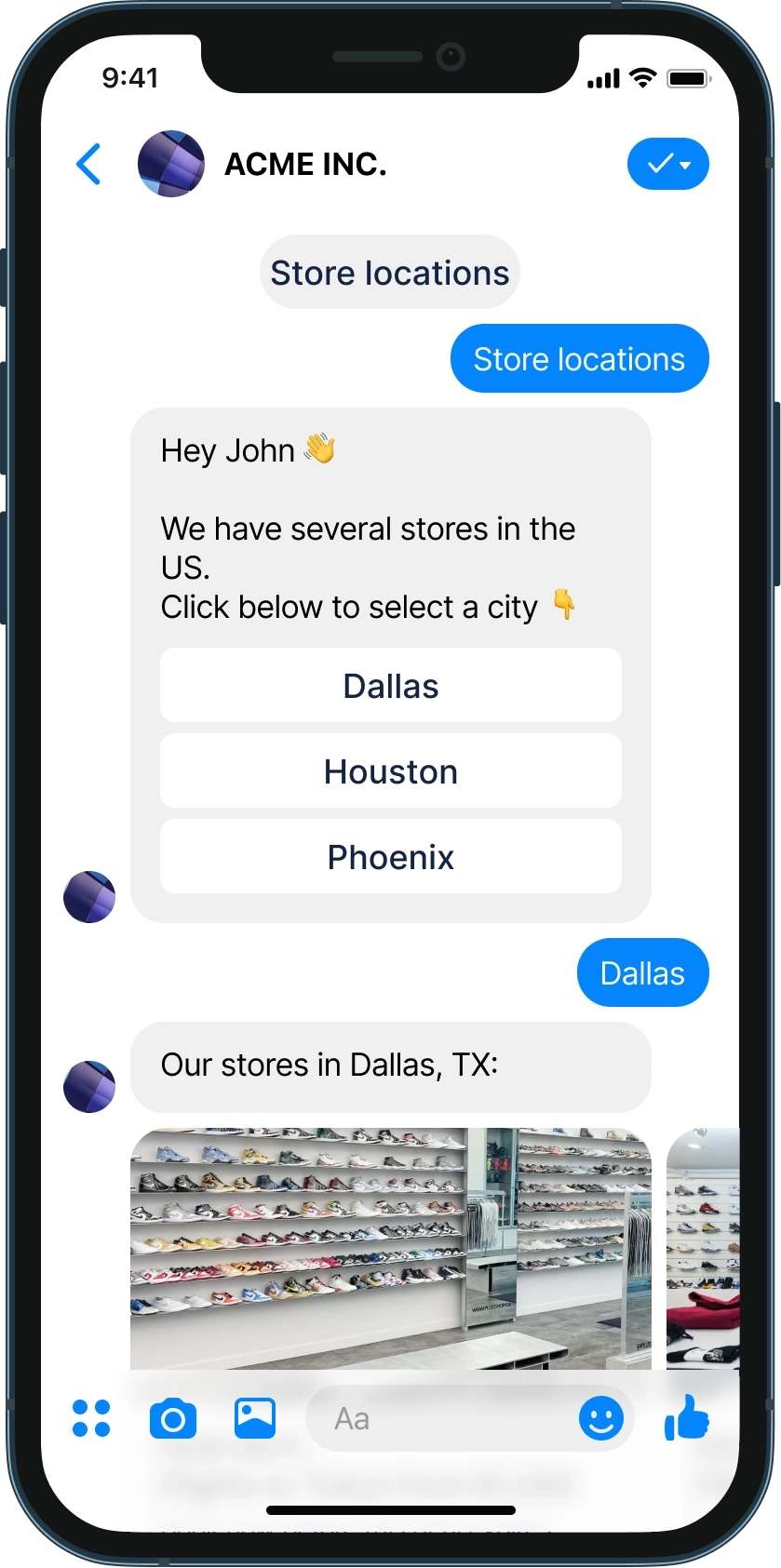 Boosting ads
With this template, you can send automated messages to consumers who click on your lookalike ads, collect and export their data, and more. That way, you constantly generate new leads and encourage them to do the target action. For example, to buy something on your website.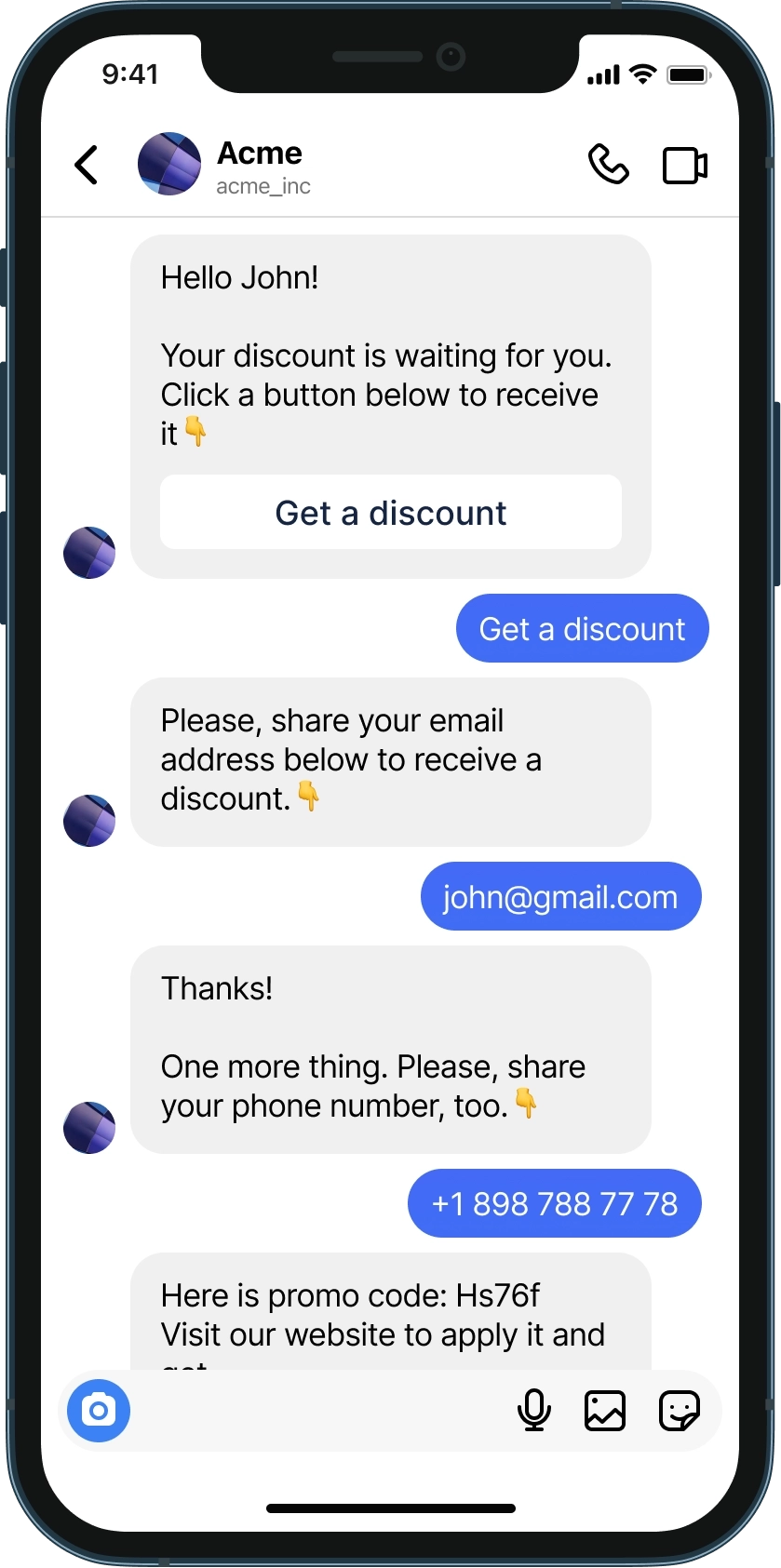 Start your own journey with an eCommerce bot
Automation makes conversational commerce in real time easier. So, if you're looking for a long-term solution to answer questions about your business, improve customer experience, and drive sales and customer support — sign up with Chatfuel. Your first 50 conversations with customers are on us.