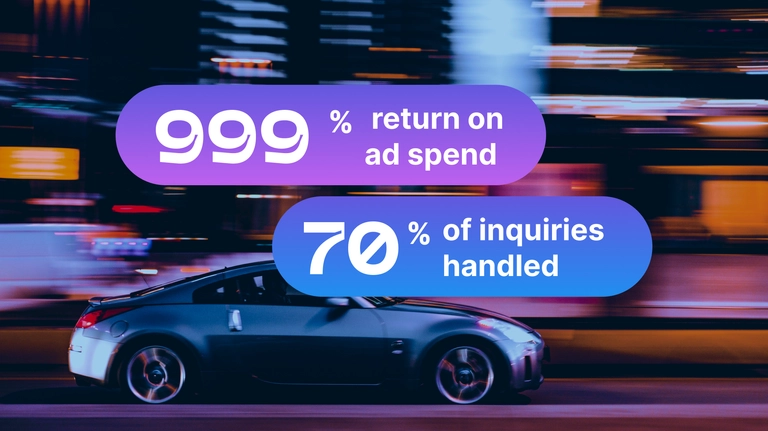 Published July 20, 2023 in
Agency gets 999% ROAS for an e-commerce customer using Messenger bot
This agency used a bot to help an ecommerce brand reduce 70% of repetitive customer inquiries, increase sales, and achieve ROAS of 999%!
A great product attracts people. And it the support team gets more overwhelmed with a high customer flow. When it comes to e-commerce, the pressure might be even higher because consumers can quickly ask a question and expect a quick response. And if they don't get it, most likely, they'll leave. No matter how great the product is.
3D Mats is a Taiwanese e-commerce retailer that faced this problem. They design and sell car accessories such as floor mats, sunshades, and roof racks, focusing on constantly innovating and releasing high-quality items for their customers. Looking for a solution, 3D Mats hired GoSky AI agency to build a chatbot for their brand. The bot produced such excellent results for 3D Mats that it won second prize in our 2019 E-commerce Chatbot Competition. Here are a few metrics:
The yearly average return on ad spend (ROAS) blasts to 999%.
47% of customers purchase other recommended products.
The repurchase rate has climbed to 30%.
Let's have a look at their journey.
Busy support team, ineffective both marketing and ads
The 3D Mats support agents spent most of their time answering repetitive common questions. For example, consumers asked about the products, delivery details, and other things that are called FAQs. Of course, answering those is essential, but that meant less time to respond to more complex inquiries, plus longer waiting time for all customers.
Despite communicating with consumers a lot, the 3D Mats team didn't have a good feel for who their ideal customer was. So, it was hard for them to market effectively. Not understanding their target audience meant their Facebook ads weren't too successful. Their retargeting ads were getting pricey, even though they weren't doing much to increase sales for their store.
All these problems took the 3D Mats team to the point where they needed an innovative but inexpensive solution. So, they decided to try automation.
One chatbot solves three problems
Initially, the GoSky team realized that all these problems were connected. So, they set up a strategy for solving them all and implemented it in their chatbot for 3D Mats. "Chatfuel Dashboard is very stable and trust-worthy. It brings an enjoyable user experience to the bot builder and the bot users, " Dora Tseng from GoSky AI explains why they chose Chatfuel for this and other projects.
Let's look at how the GoSky team broke down the task into three steps and used powerful Chatfuel tools and plugins for each problem.
Automating FAQs and product recommendation
3D Mats shared that most of the FAQs they receive from the comments. So, the GoSky team used a Comments Autoreply feature in their Chatfuel automation. A chatbot can send a private message to all commenters or only those who used a specific keyword in their comment. This rule can be applied to all posts or only particular ones. If you already use Chatfuel automation, you can set the Comments Autoreply feature and check the FAQ templates in your Dashboard.
Understanding the audience
Click-to-Messenger ads. Tseng calls this feature and chatbots "a perfect match because they lead right to the chatbot, avoiding necessary redirect." GoSky AI used bot links to make this process even smoother. For example, when users click a product ad, a link takes them to that part of the bot containing information about that product. That way, users find what they need in one click, so conversion rates increase.
Save to Google Sheets plugin. The 3D Mats chatbot quizzes users about their car and needs. It automatically exports their answers to a Google Sheet. A human agent then checks the responses, finds the right product for the user's car, and sends them the store link to it via Live Chat. The GoSky team plans to automate the whole product recommendation process to save even more time.
Improving the ad campaigns
Lookalike audiences. On Facebook, you can target new people who are most likely to be interested in your ad — and most likely to convert. Chatfuel users have access to this data in the People tab. They can export it to Facebook and use it in their ads.
A/B Test plugin. GoSky AI used this feature for the brand's holiday campaign to find the most effective way to send a promo code to users. They tried three options: sending it immediately, sending it later via sequences, and sharing it with a countdown timer. The results showed that the Sequence flow worked best, as it got them the most conversions. They used that method for all future users and increased monthly sales by 29%!
Beyond expectations
Eventually, the 3D Mats team had much more time because the automation was now instantly responding to common questions. Once a Chatfuel bot starts a conversation with a new user, it saves their profile information in the People tab. The more new users the 3D Mats chatbot interacted with, the more data the team had to analyze. That insight allowed them to solve their second problem. Eventually, 3D Mats was able to run better ads and produce more relevant content, helping solve the third problem. The bot GoSky built help solved 3D Mats' problems and accomplish their goals:
The chatbot's FAQs function and quiz feature have reduced repetitive inquiries by 70%. Once they automate the entire process, GoSky estimates that number will jump to 95%! The 3D Mats support team already has much more time to spend on other tasks, and that time will only increase.
Suggesting products has been a super effective function of the bot, too. 47% of customers now also purchase other recommended products. 3D Mats' repurchase rate has climbed to 30%. The bot personalizes the service and keeps customers coming back.
The audience data that the 3D Mats chatbot gathered gave their Facebook ad performance a significant boost. Their yearly average return on ad spend (ROAS) is now 999%.

Grow e-commerce conversion rate
With Chatfuel, you can answer FAQs, learn your target audience better, improve your ads, and more. Automation will help you save time to focus on the things that need your attention most while your automation communicates with your customers 24/7. Sign up for free today to access the Chatfuel powerful tools and features. No technical knowledge or previous experience is required.