Published July 5, 2023 in
Marketing automation love story: Chatfuel + Zapier
The secret to taking your business to the next level: marketing automation. Here's how to do it with Chatfuel + Zapier automation software.
Can your chatbot juggle? 🤹‍♀️ If you built it with Chatfuel, it can! Your bot can juggle an almost infinite number of tasks for you, completely on autopilot. It can schedule events, organize lead information, create email contacts, and more, all on its own. All you, the builder, have to do is get your Chatfuel bot set up with Zapier automation software—a quick process that doesn't require a single line of code.
If you're not familiar with Zapier, think of it kind of like a translator. It makes it so that different software apps can speak to each other so they can work together, like Chatfuel and Mailchimp, Chatfuel and Calendly, or Chatfuel and any of thousands of other apps and services. You can set it up so that a certain action in Chatfuel triggers a certain action in App X (or vice versa). The integration of two apps is called a Zap.
Just think of the possibilities! Give up the tedious, manual tasks and let marketing automation handle the rest. Trust your no-code chatbot to automatically juggle however many tasks you need to take your business to the next level.
To get you started, we'll give a bit more context about Zaps to give you a better understanding of how the two free marketing automation platforms Chatfuel and Zapier can work together. Then we'll share a list of our most popular Zap templates (they're free and easy to use!) for you to take advantage of. Finally, we'll explain how to create your own custom Zap, in case you prefer to do it that way.
Understanding Chatfuel Zaps
Before we dig into our Zap templates, it might be helpful for you to understand a bit more about how Chatfuel Zaps work. Basically, there are two ways Zapier can help your chatbot communicate with third-party services:
by importing data from them. You can set up a Zap to retrieve data from one of those services so your Messenger bot can use it. For example, your bot could send reengage messages, update attributes, or manage subscription settings based on how a user behaves in another app.
by exporting data to them. You can set up a Zap that sends data from your chatbot to a third-party service. It tells the app or service to take an action (like adding an email contact or booking an appointment) based on how a user behaves in your bot.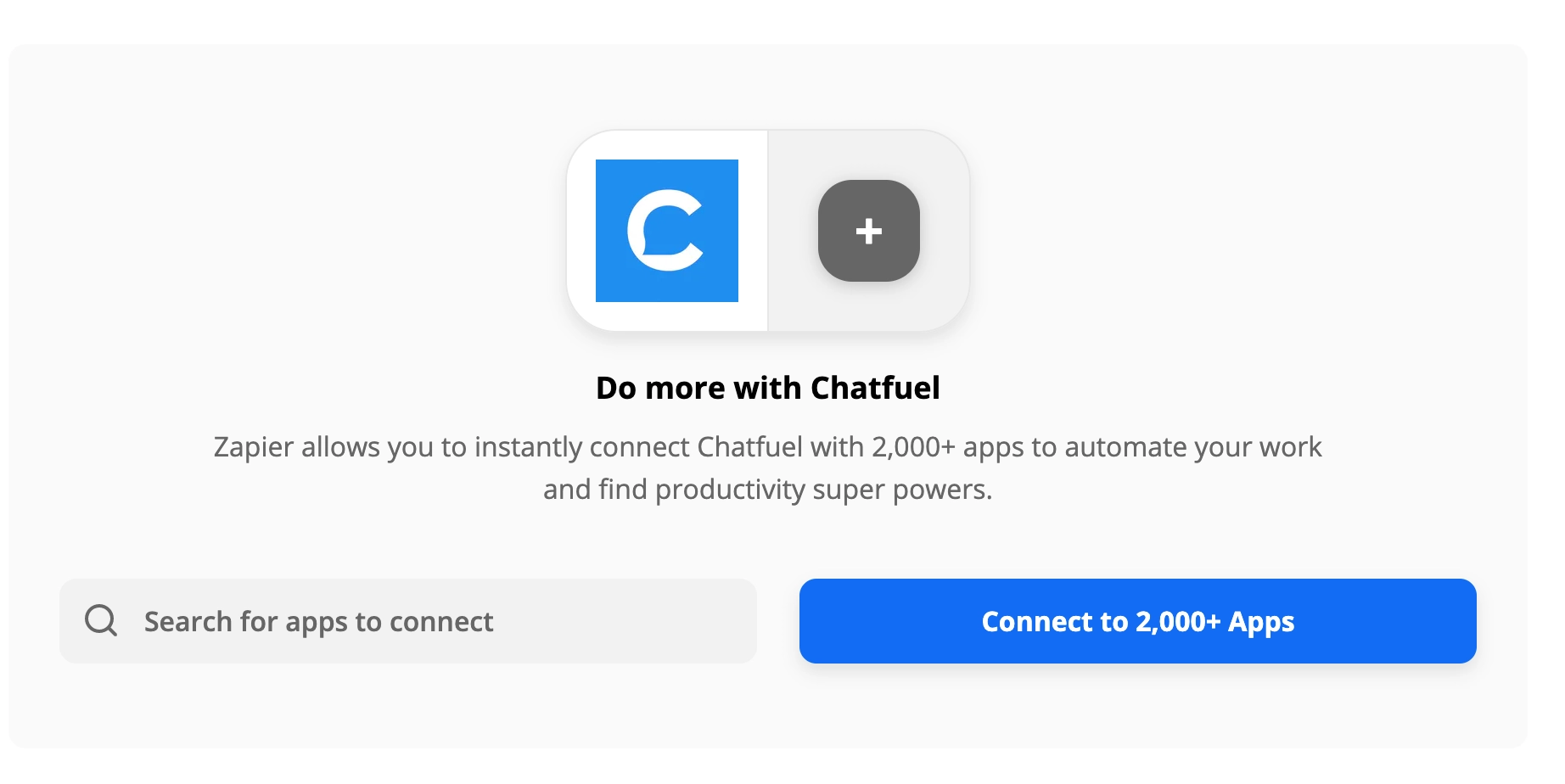 Before we move on, here's one more bit of lingo you should know that'll help you in the setup process. In the marketing automation platform Zapier, you'll have trigger apps and action apps. An event in the trigger app causes an event to occur in the action app. So let's say you're exporting data from Chatfuel to Airtable, for example. Chatfuel is the trigger app (where the process begins), and Airtable is the action app (where the resulting action happens).
Free Zap templates for you to use
Now you're ready to pick a Zap and get started! We've built plenty of no-code templates for Zapier integrations already. They're free for you to use. You just need a Zapier account, a Chatfuel account, and an account with the third-party service you want to integrate. Then you're ready to get started with your automated marketing solution. 🙌
Below, you'll find a description of what each Zap template does and a link to it. Click the link to open the template in your browser. Zapier will then take you through a few steps to customize it. You'll need to link your Chatfuel account, select the correct bot, and run a test to make sure everything's working. Set up one, two, or dozens of Zaps to get your chatbot juggling tedious tasks for you, all on autopilot! Welcome to the power of automation software.
Zaps for event scheduling 🗓️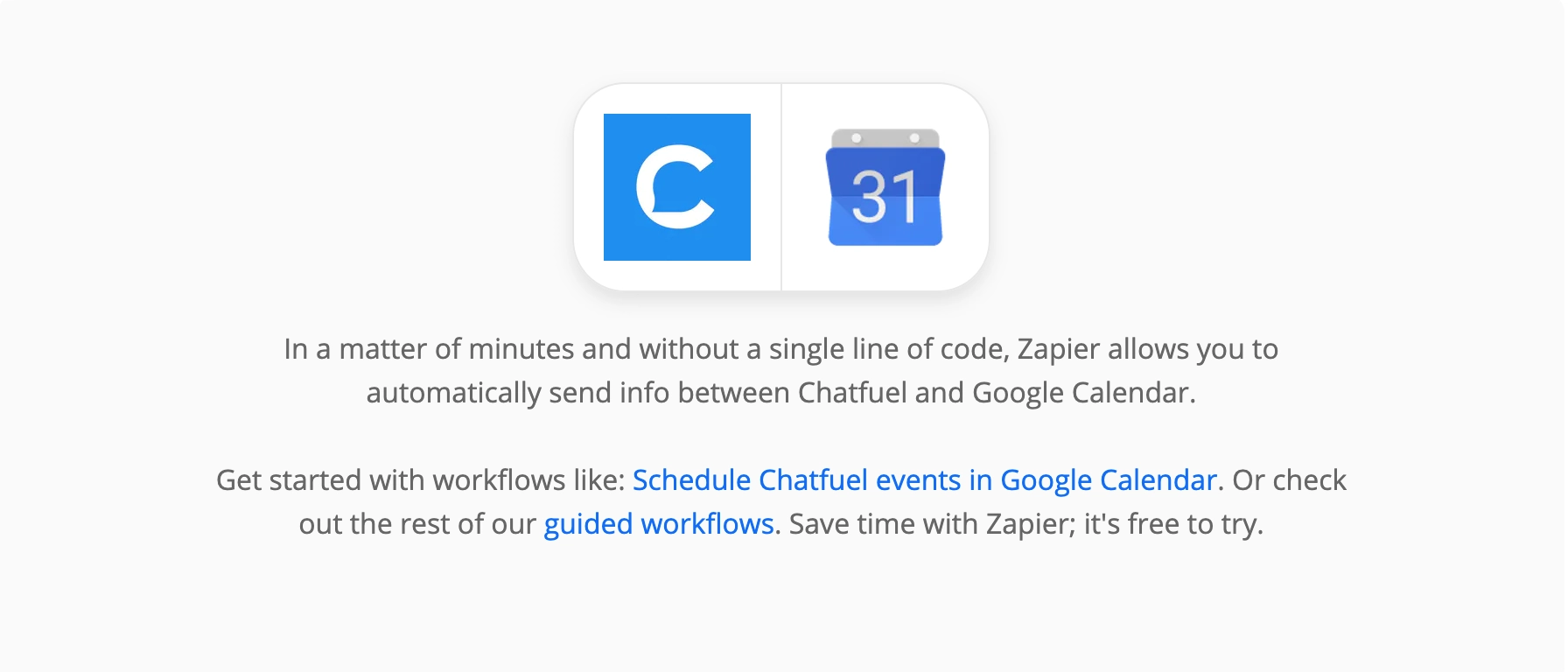 Let users schedule, cancel, and get reminders for events. Whether it's a call, a webinar, an in-person appointment, or something else, these Zaps let the user schedule it themselves through your chatbot. They can cancel the event too, if they change their mind. Any new or canceled events will reflect on your calendar. You can also set up automatic reminders via chatbot that will appear before the event.
👉 Use this Zap for Calendly
👉 Use this Zap for Google Calendar
Zaps for sending email and SMS to bot users 💬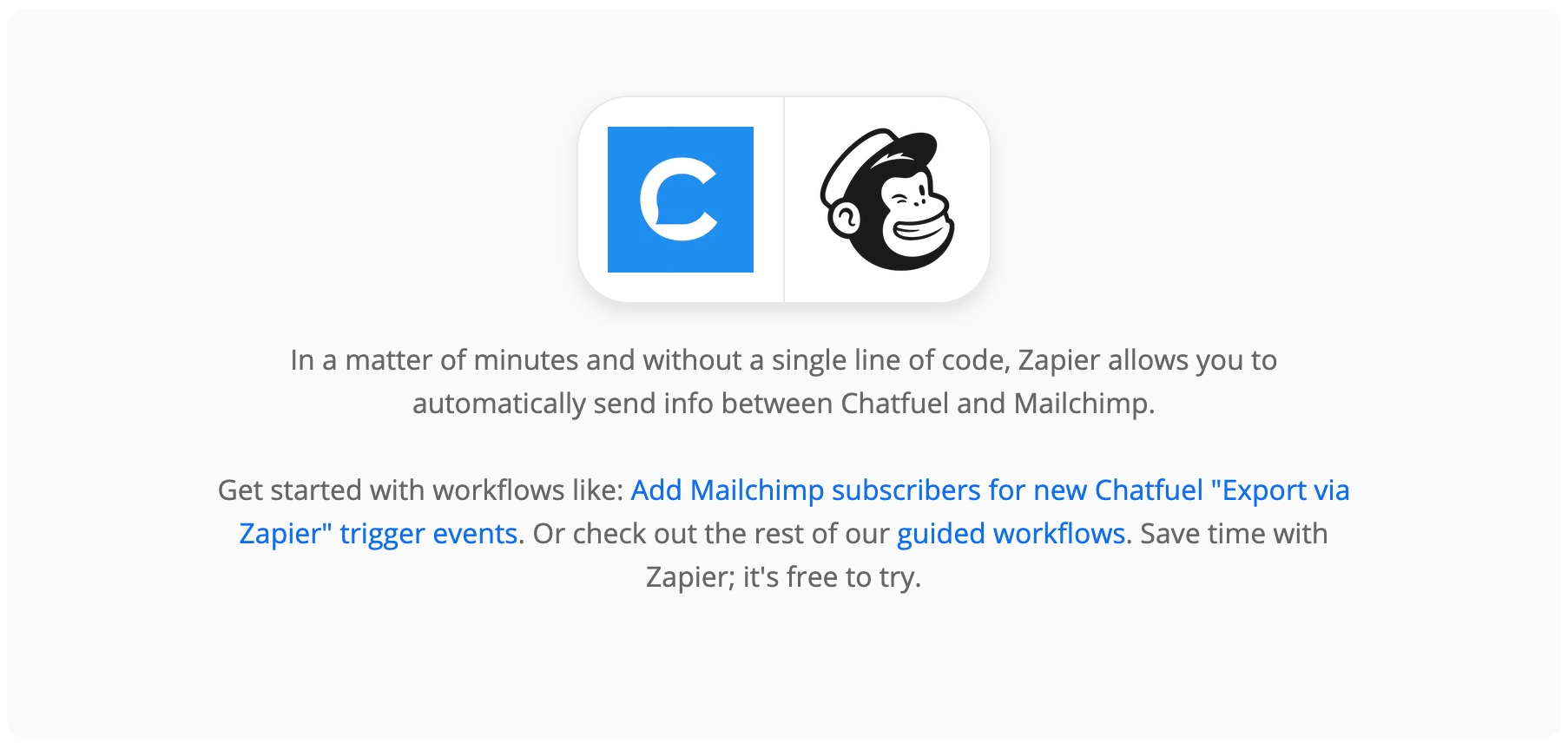 Send SMS messages to chatbot users. You're already growing a loyal user base for your Facebook chatbot in Chatfuel, so why stop there? This integration uses Twilio to send an automated SMS or MMS message to a Chatfuel user who shared their phone number. For example: Ask a user for their phone number in Chatfuel, then text a coupon code to their phone.
Add chatbot users as email subscribers. Ready for an easier way to get your customers into your chatbot user list? Just set up this marketing automation tool, and when a customer gets to an Export via Zapier trigger in Chatfuel, a new email contact will be generated for them. No more wasted time manually adding subscribers yourself!
Unsubscribe users from a Mailchimp list based on their actions in your bot. Automatically unsubscribe the email addresses from a Mailchimp list using this integration. When active, it removes contacts from your mailing list each time the Export via Zapier plugin is triggered in Chatfuel.
Add chatbot users as email/SMS subscribers. Acquire leads from your Facebook bot flow and send them to your email/SMS client, so you can add them to your email or SMS marketing campaigns.
👉 Use this Zap for ActiveCampaign
Zaps for lead generation, handling, and follow-up 🙋🏽‍♀️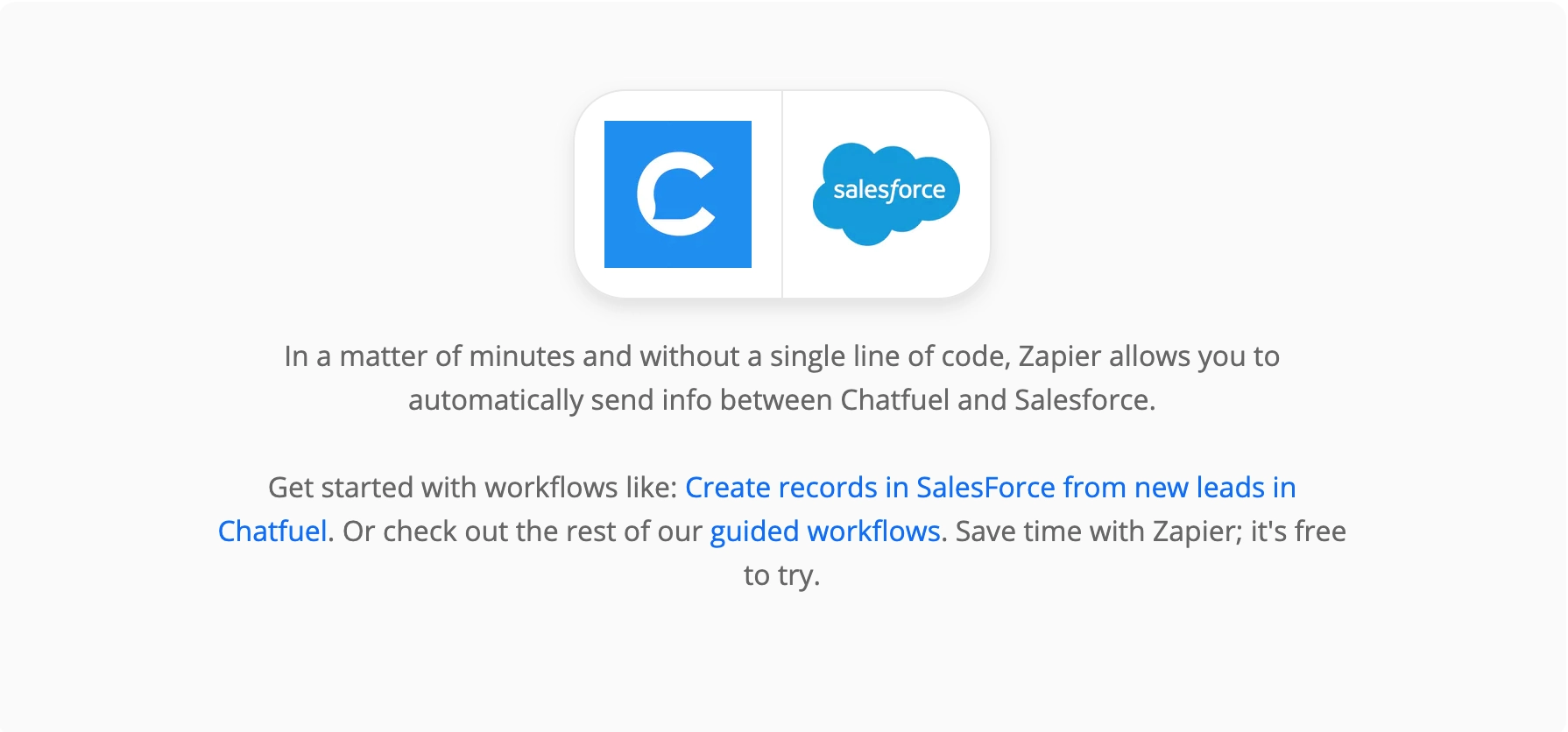 Create records in your CRM from leads you acquired via chatbot. Use your Messenger bot for lead generation. Then use this Zap to automatically send lead information to your CRM for easy follow-up later.
Send phone numbers of qualified leads to your RingCentral calling list. Set up a lead generation flow in your Chatfuel bot that applies user attributes to those who make it through the process. Then, use this marketing automation tool to send only these qualified leads to your RingCentral calling list.
Get Slack notifications for new leads. If your team primarily uses Slack to communicate, they likely won't check and respond to user messages in Messenger as quickly. Use this Zap to integrate the two messaging platforms so your team can get Slack alerts whenever a new lead is qualified in your chatbot.
Get email notifications for new leads. Sometimes you're right in the middle of another task when a new lead comes through your Facebook chatbot. To make sure you don't forget about it, use this Gmail Zap. It'll export new bot messages out of Chatfuel as Gmail emails, so you'll have a reminder to follow up waiting in your inbox.
Zaps for data handling 📊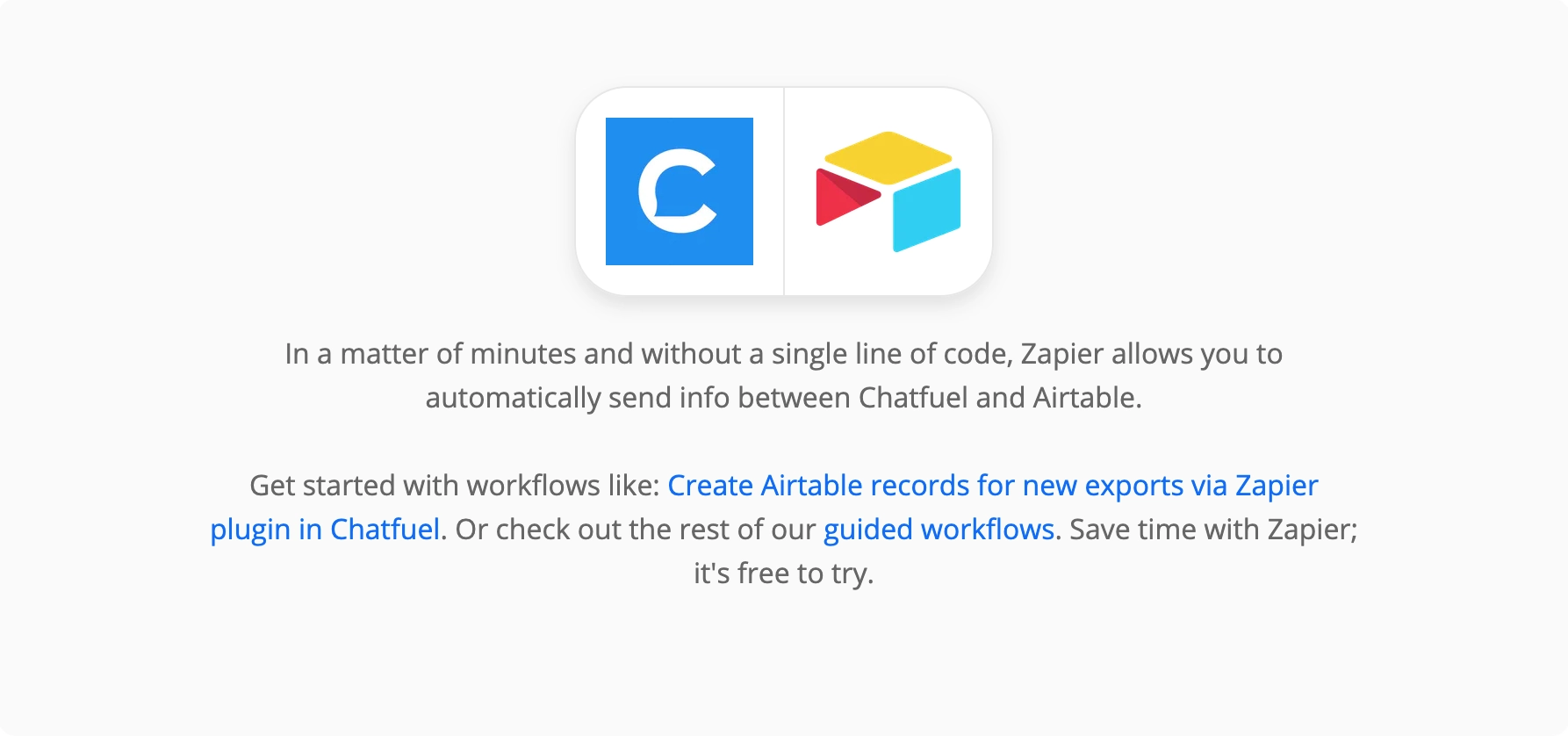 Send data from your bot to an organized table. Sometimes you need to push info from your chatbot interactions to a database tool for organizing. If your Facebook Messenger chatbot is gathering a lot of data from users (like in a survey, for example), try this Zap to help organize it. This Zap will create new records in Airtable when you have new triggers of the Export via Zapier plugin in Chatfuel. No more copying and pasting important information manually!
You can view all Chatfuel-Zapier integrations on our page.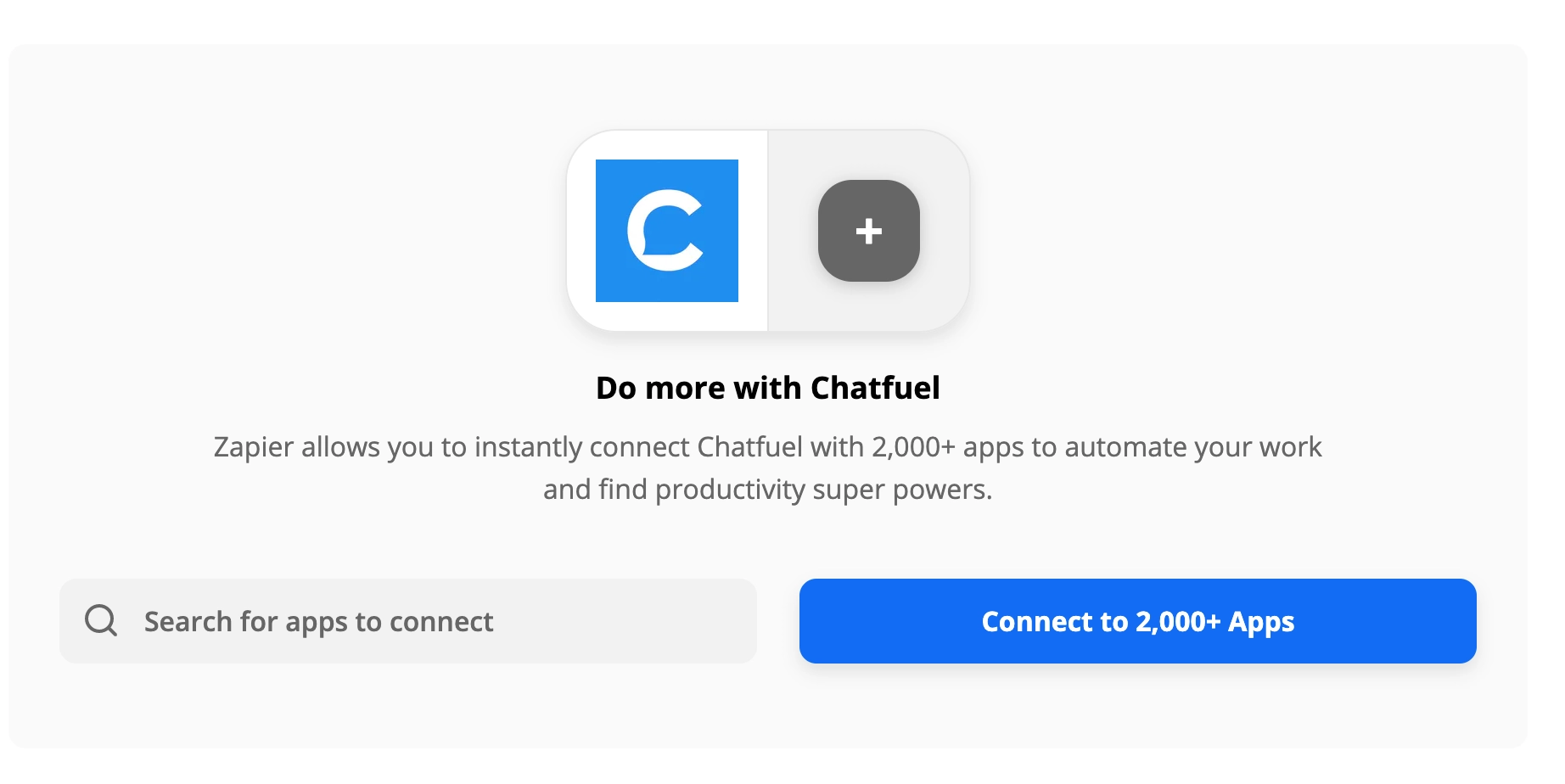 Creating your own Zap
If you prefer to create your own custom Zap instead of using one of our templates, get started with the basic instructions below. Your first step is to decide if you want to create an import or export integration. If you want a Zap that exports data from Chatfuel and triggers an action in a third-party app, follow the Export Zap instructions. For the reverse, follow the Import Zap instructions.
Setting up an Export Zap
Use an Export Zap if you want to trigger an action in a third-party app when one of your users takes a certain action within the Messenger bot. This video tutorial demonstrates the basic process. ⬇️
The exact instructions will vary depending on which app you're integrating with Chatfuel via Zapier. But the basic guidelines are as follows:
In the Automation → Blocks tab, Add the Export via Zapier plugin from the Add Element menu to your Chatfuel bot. Insert it at the bottom of a block, after whatever user action it's based on will have taken place (like at the end of a lead-gathering flow, for example).

In another window, create or log into your Zapier account.
Click the Make a Zap button.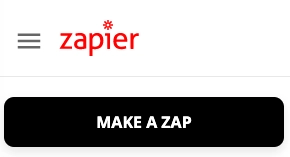 Type Chatfuel into the search box. It will be your trigger app. You'll be prompted to log in to your Chatfuel account and select the Facebook chatbot you want to use.
Choose a trigger event—the action the user will take in your bot that will trigger an event in the third-party app. (You'll need to select the Export via Zapier plugin you added in step one.)
Next, choose a third-party app as your action app. Log into your account with that third-party service when prompted. Agree to its use of test data if needed.
Choose an action event—what will happen in the third-party app after the user takes the specified action in Chatfuel.
Activate the Zap, and test it to make sure it's working properly.
Setting up an Import Zap
The same basic instructions above apply to setting up an Import Zap. The main difference is that you'll choose the third-party service as your trigger app, and Chatfuel as your action app. You'll also want to add the Import via Zapier plugin to Chatfuel, rather than the Export via Zapier plugin. You can learn more in the video tutorial below. ⬇️
And if something's not working quite right with one of your Zapier plugins, consider these tips:
Activate your Zaps. Previewing them in test mode won't show user attribute values. To get the full experience of how your Zap will work, make sure to properly activate it.
Expect some latency. Depending on your Zapier plan, data transfer might not be instantaneous.
Up your game with marketing automation
If you're ready to scale your business, marketing automation tools should become your new best friends. One of the key functions of Chatfuel is to help you grow on autopilot, so incorporating Zapier will only supercharge this process.
If you're ready to get started with chatbot marketing and automation, sign up for a free Chatfuel account today. Get familiar with the platform and validate your concept, then upgrade to Pro to reach more users and enjoy extra perks (like priority support and no user limits). Happy automating! 🤖